By Rodney Drinnen, BosNewsLife Special Correspondent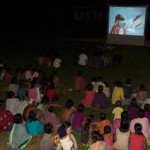 NEW DELHI, INDIA (BosNewsLife)– Two native missionaries in India were recovering from injuries Sunday, February 1, as they were beaten by an angry mob in the northeastern state of Manipur after showing a film in the life of Jesus, the latest in a series of attacks against evangelists in the Asian nation, co-workers said.
Mission group Gospel for Asia (GFA) said the troubles began in an area of Manipur after its missionaries Randhir Malhotra and Kritanu Sarin had just shown a film on the life of Jesus to a crowd of about 100 people in a nearby despite opposition there the night before.
They were "forcefully instructed to leave a village in Manipur and never return," GFA explained. It did not specify the name of the village, apparently amid security concerns.
As they were searching for another village to show the film again, two people claiming to be local officials allegedly stopped them for  interrogation.
Malhotra and Sarin were quoted as saying that the interrogators did not believe they wanted to spread the Gospel, and instead accussed them of being part of "a militant group".
They were taken to three other suspects who blindfolded them and movad the missionaries to a place where they were attacked with sticks, GFA said.
ANGRY MOB
"They were pushed down and kicked by the mob who also took their money as well as their belongings. Yet once the attackers had threatened them to not return there, they did return their cell phones to them." The two missionaries were eventually receiving money for bus fare "from someone who took compassion" on them, to get to GFA leaders who brought them to a local hospital.
"They had black and blue marks on their bodies. The physicians who treated them asked them to return later for further exams as the injuries they'd sustained were extensive," GFA said.
The violence came shortly after GFA said another missionary worker, Yashpal Bhuta Masih, was detained in the state of Madhya Pradesh on "false" charges of violating India's "Freedom of Religion" statue that forbids conversions from "force, fraud or allurement."
Masih was taken into custody while leading three small congregations of 56 Christian converts, according to GFA investigators. Especially Hindu nationalist groups and authorities cooperating with them have been trying to crackdown on Christian mission activities in India, a mainly Hindu nation, advocacy groups say.