BosNewsLife News Center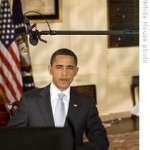 WASHINGTON D.C, USA (BosNewsLife) — United States President Barack Obama on Saturday, February 14, praised Congress for passing his $787 billion economic stimulus bill saying "we've delivered real and tangible progress for the American people," amid the worst recession since the Great Depression of the 1930s.
His comments in his weekly radio address came just hours after the Senate approved the bill with a final vote 60-38, the minimum it needed to pass, hours after the House of Representatives passed an identical law, 246-183.
Three Republicans — Senators Susan Collins, R-Me., Arlen Specter, R-Pa., and Olympia Snowe, R-Me. — voted for it. Earlier in the day, no Republicans in the House voted for the legislation and just seven Democrats voted  against it, underscoring tensions over how to solve America's crisis.
The action capped weeks of arguing over how Congress could best stimulate an economy suffering a rising jobless rate of 7.6 percent and a banking crisis that has nearly frozen lending.
"MAJOR MILESTONE"
Obama on Saturday, February 14, called the passage of the legislation "a major milestone on our road to recovery," and he thanked members of Congress for coming together in common purpose to make it happen.
He said the bill, which he will sign into law next week, will save or create more than 3.5 million jobs over the next two years, ignite spending by business and consumers and lay a new foundation for lasting economic growth and prosperity.
Yet, conservative politicians have described their doubts and speak of excessive government spending that they claim will leave generations in debt. Obama stressed however there would be "unprecedented accountability, responsibility and transparency" once the stimulus plan is put into action.
A new Web site (www.recovery.gov) will allow anyone to keep track of where the money goes and weigh in with comments and questions, he said. (BosNewsLife's NEWS WATCH is a regular look at key news developments impacting the Church and compassionate professionals).