BosNewsLife News Center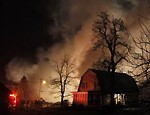 NEW YORK, USA (BosNewsLife)– Investigators rushed to suburban Buffalo in the U.S. state of New York, Friday, February 13, after a commuter plane coming in for a landing crashed into a house, killing all 49 people on board and one in the home, officials said. Two others in the house reportedly escaped with minor injuries.  
It was the first fatal crash of a commercial airliner in the U.S. in 2 1/2 years.
Witnesses said they heard the twin turboprop aircraft sputtering before it went down in light snow and fog around 10:20 p.m. Thursday, February 12, local time.
Flames silhouetted the shattered home after Continental Connection Flight 3407 plummeted into it, some five miles (8 kilometers) from Buffalo Niagara International Airport, witnesses said.
MUCH FUEL
The 74-seat Bombardier Q400 Dash 8 aircraft was carrying 5,000 pounds of fuel and apparently exploded on impact, Erie County Executive Chris Collins told reporters.
The Department of Homeland Security in Washington, announced there was no indication terrorism was involved. However the National Transportation Safety Board said it was sending a team of crash investigators to Buffalo early Friday, February 13, to search for clues.
The plane was carrying a four-member crew and an off-duty pilot. Among the 44 passengers killed was a woman whose husband died in the World Trade Center attacks of September 11, 2001, The Associated Press news agency reported.
Local residents said they were suprised that only one home was destroyed. Houses in the neighborhood are only about 20-25 feet apart.
"The fact that the damage is limited to the one residence is really amazing," said state police spokeswoman Rebecca Gibbons in published remarks. "It was just like a movie," the New York Daily News quoted neighbor Kelly Simkin as saying. "You just saw the explosion. It's unbelievable. My heart is still in my throat. I'm still shaking."
MORE CRASHES
The Buffalo crash came less than a month after a US Airways pilot guided his crippled aircraft to a landing in the Hudson River off Manhattan, saving the lives of all 155 people aboard. A collision with birds had apparently disabled both the jet's engines.
The last fatal crash involving a scheduled airline in the United States came in August 2006, when a Comair regional jet crashed in Lexington, Ky., killing 49 people, The Los Angeles Times newspaper reported. It had apparently tried to take off on a runway that was too short.
On December 20, last year, a Continental Airlines plane veered off a runway and slid into a snowy field at Denver International Airport, reportedly injuring 38 people.
Houston-based Continental Airlines said relatives and friends of those on Flight 3407 who wanted to give or receive information could telephone a special family assistance number: (800) 621-3263.