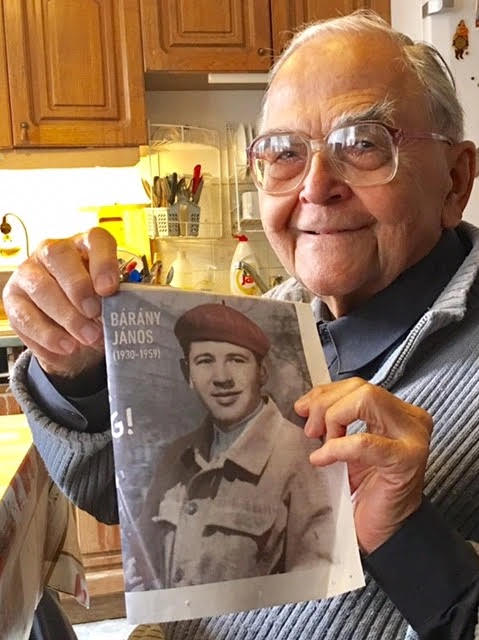 By Stefan J. Bos, Chief International Correspondent BosNewsLife, reporting from Budapest, Hungary
BUDAPEST , HUNGARY (BosNewsLife)— Hungarian liberal politician and author Imre Mécs, a soft-spoken stylish man who was once nearly executed for playing a pivotal role in Hungary's Revolution of 1956 against Soviet domination, has died, BosNewsLife learned Saturday. He was 89.
"It is with pain that we inform you that Imre Mécs passed away this morning in the 90th year of his life, surrounded by his loving family at home," his family said about his passing on Thursday, January 19.  He would have turned 90 in September. A quote from Imre Mécs concluded the obituary: "You can't live without freedom." No more details about the cause of his death were given.
Mécs was a close friend of Hungary's first democratically elected post-communist President, Árpád Göncz, who passed away in 2015. Göncz asked Mécs, who shared a prison cell with him as a fellow freedom fighter after the Revolution, to deliver the eulogy at his funeral.
Both men were detained in 1957 and released only in 1963 when Hungary's communist leader János Kádár declared an amnesty for some political prisoners and freedom fighters.
In 1958, Göncz was found guilty and sentenced to life imprisonment. Later he was heard saying that "this was the happiest day of his life" as his life was spared.
But Imre Mécs was condemned to death in 1958. He expected to be strung up on wooden gallows by communist henchmen. "The statistics were very bad," Mécs once recalled.
"Almost 400 of us were sentenced to death, and 233 were executed. At one point, 19 out of 20 of the condemned were being executed, so I didn't think I would make it."
LIFE SENTENCE 
Only a year later, his death sentence was commuted to life imprisonment.
Following his release from prison, he was forced to work as an electrical engineer under the communist regime, which was allied with the then Soviet Union.
But he was happy to be alive, realizing that the Revolution had killed at least 2,500 Hungarians and 700 Soviet Union Army soldiers sent by Moscow to crush the revolt.
Some 200,000 Hungarians sought political refuge abroad, causing Europe's first refugee crisis since World War Two.
Yet, despite the difficulties and Soviet occupation, Mécs became a founding member of the Alliance of Free Democrats (SZDSZ) when Hungary was still a communist nation.
Wearing his trademark bow tie, he was elected as an elderly statesman on the SZDSZ party ticket to the Hungarian Parliament after the first democratic elections in 1990, which ended decades of communist dictatorship.
Mécs served several terms as a legislator, during which he also proposed to ensure that the constitution no longer referred to "the party" as it implied one-party rule under communism.
PARTY TROUBLES 
After differences with his fellow liberals, he quit SZDSZ and was elected on the Hungarian Socialist Party (MSZP) ticket in 2006.
Ironically the MSZP was the successor of the communist party that once prosecuted and nearly killed, Mécs. However, he explained to a BosNewsLife reporter that it was crucial to healing the wounds of history. "Communists died for freedom too," he told BosNewsLife in 2016.
With teary eyes, he held a newspaper photo of a young fallen comrade at his kitchen table with a caption: 'János Bárány 1930-1959'. "He was a communist but fought for freedom. I said farewell to him just before his execution," Mécs recalled.
Mécs did not win another seat in the 2010 elections, ending his parliamentary career. However, in January 2011, he rejoined his old SZDSZ party and made it a point to preach reconciliation.
Yet he often criticized Hungarian Prime Minister Viktor Orbán's perceived autocratic style. Under Orbán, post-communist Hungary turned back into only a "partly free" country, according to the monitoring group Freedom House and the European Union's legislature.
Last year, the EU's European Parliament adopted a resolution declaring Hungary a "hybrid regime of electoral autocracy" charges Orbán claims are politically motivated.
It remained painful for Mécs to see the country he nearly died for moving away from the European mainstream and seeking closer ties to Russia. "He is a tragedy, not only for Hungary but for all of Europe," Mécs said at the time about Orbán in a wide-ranging interview before his death.
BIBLICAL REFERENCE
It hurt him that Orbán, who as a young man publicly demanded the withdrawal of Soviet troops from Hungary, had copied Russian President Vladimir Putin's governing style.
"A normal person would defend European values." But, till his last days, Mécs wanted to encourage the next generation to overcome the battles of the past and seek a new, more free direction for Hungary.
Mécs, a man of faith, sometimes referred to the Bible when discussing his hopes for the nation. "The Bible recalls that it took Moses 40 years to lead the enslaved people of Israel from Egypt to the Promised Land," Mécs told BosNewsLife in 2016. "I think we need a real new generation of leadership to bring Hungary true freedom." Mécs, who was married twice, is survived by his wife, Hungarian playwright Fruzsina Magyar, and children.
He had eight children from his two marriages, including two daughters, Mónika and Anna, and six sons, Imre, László, Máté, Bálint, János, and Dávid.
Funeral arrangements were not immediately announced, but his passing was due to be remembered by the dwindling number of freedom fighters still alive and many other Hungarians.