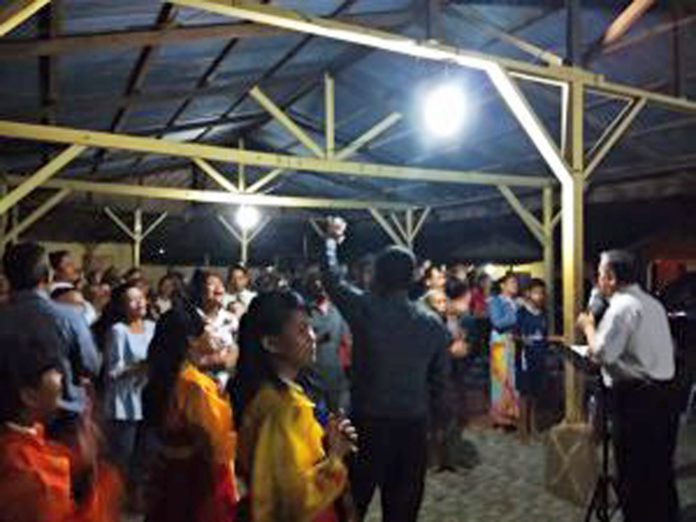 (At least six people have been killed and hundreds injured in the latest riots in Indonesia's capital, Jakarta, after the General Election Commission (KPU) confirmed that President Joko Widodo had beaten his challenger, former general Prabowo Subianto, in the April 17 election. Amid the turmoil, BosNewsLife republishes crucial reports from its recent investigations on the plight of minority Christians in Indonesia.) 
By BosNewsLife Asia Service with reporting from BosNewsLife's Stefan J. Bos from Jakarta
JAKARTA, INDONESIA (BosNewsLife)– Millions of people in Indonesia are becoming Christians, despite efforts by authorities and militants to halt this trend, according to an extensive BosNewsLife investigation. Amid the turmoil, the world's largest Muslim nation experiences unprecedented church growth. Following are links to the SEVEN latest stories about the trials and triumphs of those seeking Christ or who raise debate about Indonesia's attitudes towards minorities. Click on the headline or read more. Media can reach reporter Stefan J. Bos for interviews or additional audio via bosnewslife@gmail.com or +36 70 31 71 611
1. Millions Secretly 'Turn To Christ' In Indonesia
JAKARTA, INDONESIA (BosNewsLife)– Millions of Indonesians are becoming Christians, often secretly, but authorities refuse to recognize this trend in the world's largest Muslim nation, several evangelical leaders have told BosNewsLife. At least three to four million Indonesians "turned  to Christ" over the past year, according to Christian officials with very close knowledge about the situation.
2. Indonesia's Pentecostals Preach Christ After Losing Members In Islamic Attacks (UPDATE)
JAKARTA, INDONESIA (BosNewsLife)– The secretary-general of Indonesia's main Pentecostal denomination says up to 20 church members are killed annually due to their faith in Jesus Christ amid mounting concern about spreading Islamic extremism here. Johannis ('John') Hus Lumenta spoke to BosNewsLife at church headquarters in Jakarta, where mosques compete for attention with the Muslim call to prayer reverberating throughout this vibrant capital.
3. Indonesia's Prominent Priest Demands End To Church Attacks 
JAKARTA, INDONESIA (BosNewsLife)– The priest of Jakarta Cathedral, Indonesia's most known Catholic parish, has urged the government to prevent a repeat of attacks against churches amid tensions following recent presidential elections. Markus Yumartana, 53, said he hopes authorities would continue on the path of religious tolerance that he claimed surrounded the recent Asian Games, the largest sports event ever held in terror-prone Jakarta, the capital.
4. Indonesia's Pentecostal Church Evangelizing Despite Opposition
JAKARTA, INDONESIA (BosNewsLife)– When Ferry Mamangkey had a liver health scare he knew he needed a miracle. Now many prayers and "miracles" later, the recovered 62-year-old evangelist has become 'Indonesia's Billy Graham' traveling through often remote areas of this diverse archipelago of thousands of islands. "My healing was a miracle. The Lord touched me in my home. Now I am praying for the sick as part of the Gospel outreach.
5. MISSION WATCH: Christian Broadcaster Encourages Survivors Of Lambok Earthquake In Indonesia
JAKARTA, INDONESIA (BosNewsLife)– Global Christian broadcaster Trans World Radio (TWR) has begun airing programming aimed at encouraging and informing survivors in Indonesia's earthquake-shattered Lombok. The program comes amid warnings of more aftershocks after the quake hit the island on August 5, killing more than 400 people and leaving over 350,000 displaced.
6. MISSION WATCH: Funding Shortfall Threatens Indonesia Bible Translations In Remote Areas
JAKARTA, INDONESIA (BosNewsLife)– A lack of funds overshadows preparations by dozens of native Christians to secretly translate and bring the Bible to 30 language groups in Indonesia who have been waiting for that moment for generations, an official supporting the project told BosNewsLife.
7. Religious Leaders End Protest Over Woman Sentenced For Blasphemy in Indonesia
JAKARTA, INDONESIA (BosNewsLife)– Religious leaders in Indonesia's North Sumatra province have reportedly agreed to stop protesting the prison term given to a local Buddhist woman for allegedly insulting Islam. Meiliana, a 44-year-old ethnic Chinese woman, had complained the Muslim call to prayer,  repeated five times a day, was being played too loudly at the mosque near her house in the port town of Tanjung Balai in North Sumatra.
(Based in Budapest, BosNewsLife is Central and Eastern Europe's first Christian news agency and has been "Breaking the News for Compassionate Professionals" since 2004. It is covering the trials and triumphs of Christians facing persecution or other difficulties because of their faith as well as missions and related developments. Additionally, it carries religious rights stories related to anti-Semitism and world news impacting the Church and others caring for a hurting world. BosNewsLife News Agency is an independent non-profit agency, but reliant on donations to operate).