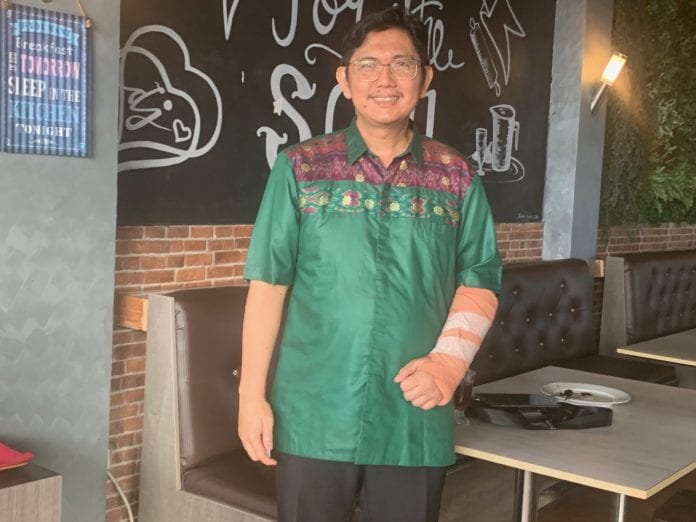 By Stefan J. Bos, Chief International Correspondent BosNewsLife reporting from Lubuklinggau, Indonesia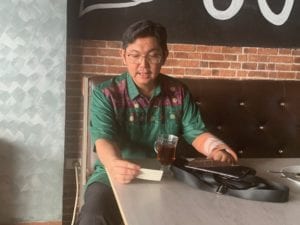 LUBUKLINGGAU, INDONESIA (BosNewsLife)– A top leader of one of Indonesia's main Islamist parties says he appreciates the Dutch king's late apology for wrongdoing during the colonial era and wants to reach out to the embattled Christian minority in Indonesia.
Mustafa Kamal, the secretary-general of the Prosperous Justice Party (PKS), made the remarks in an interview with BosNewsLife in the city of Lubuklinggau in Southern Sumatra province. "We need to improve relations between the religions because all religions have a good purpose for humanity and are a good base for this nation," he said in an interview.
The 50-year-old politician met BosNewsLife over breakfast in a simple, local hotel, after Dutch King Willem-Alexander apologized for "excessive violence" inflicted on Indonesia during his country's 350 years of colonial rule. It was the monarchy's first such admission of regret to the Southeast Asian nation.
"In line with the previous statement by my government, I would like to express my regret and apologize here for the excessive violence on the part of the Dutch in those years," the king said this week in Jakarta, the capital. "I do so with the full awareness that the pain and sorrow of the affected families will be felt for generations."
Indonesia declared its independence from Dutch colonial rule on August 17, 1945. But the Netherlands refused to acknowledge it and fought unsuccessfully to maintain control of the lucrative Asian outpost. It finally recognized Indonesia as an independent nation in December 1949.
MANY KILLED
Indonesian authorities claim some 40,000 people were killed during the fighting, while most Dutch historians estimate the dead at about 1,500. Critics point out that the eventual apology by the Netherlands for its aggression came only after the victims' widows took the Dutch government to court.
However, Kamal told BosNewsLife he is delighted that the Dutch royal house has finally expressed its regret, following statements by other Dutch government officials. "Yes, it was late. but better late than no apology at all," he said. "I very much welcome" that King Willem-Alexander and Queen Maxima "came to Indonesia," the Muslim politician stressed. "We are very happy with this apology for the past. We can not forget about that time. But this apology will also help for the future because now we can make a good connection between our countries again," Kamal added.
"The important thing is how to make now a good economic connection again for the Netherlands and Indonesia," he stressed. "For the new generation in Indonesia, it is not so important to remember the past all the time." But he said the lessons of Indonesia's painful past, can be a base to build a better future. "My constituency here in South Sumatra has a lot of Dutch heritage," Kamal noted with a smile.
"That heritage is especially evident starting from (the provincial capital) Pelambang to here around the city of Lubuklinggau. The Dutch colonial-era activities in mining, petroleum industry, plantations, and irrigation systems are still working today and have a positive impact on my region. But our future relationship is not based on colonialism, but based on a connection among equals."
Besides improving diplomatic and trade relations, the Dutch king was also due to discuss interreligious dialogue in Indonesia with religious leaders and other officials. Those talks come amid concerns about ongoing violence or other protests against Christian churches in several parts of Indonesia. Much of the violence was sparked by Islamist parties and groups or their supporters, BosNewsLife learned.
CHURCHES SUFFERING
Congregations are also suffering attacks in Kamal's constituency, pastors say. Among them, member churches of the largest Pentecostal denomination in Indonesia, that was established during the Dutch colonial era. Kamal's influential PKS is aligned to former general Prabowo Subianto, who lost last year's presidential race to lead the world's third-largest democracy.
Indonesian church officials have expressed concerns about the party's Islamist ideology and perceived opposition towards the Christian minority. They point out that PKS was influenced by the Muslim Brotherhood movement of Egypt and considered an Islamist party for its calls for Islam to play a central role in public life.
But in a surprise turnaround, Kamal made clear that it was time for interreligious dialogue. Asked whether he was concerned about the tensions between Muslims and churches, he said: "Yes, of course. Yeah."
In perhaps a hopeful sign for persecuted Christians, the leader added: "We need to improve relations between the religions. Because all religions have a good purpose for humanity and are a good base for this nation."
The Islamist politician made clear that he appreciated there are more religions in what is the world's largest Muslim nation of nearly 270 million people. "The advantage of Indonesia is that we have a lot of religions here. That is a unique aspect of Indonesian society today, which makes it different from other countries."
BUILDING TOGETHER
Religion, the party-official explained, "should be used as a base for building together Indonesia." In a reaction, the leader of an underground Christian movement of former Muslims expressed skepticism saying, Kamal's party includes an anti-Christian military wing. Christians also wondered whether a politician committed to the Koran, deemed a holy book by Muslims, is sincere when pledging tolerance towards other religions.
In the interview, Kamal acknowledged that in "a religious and interfaith society, there are certainly differences." But Kamal stressed: "Having a dialogue and building understanding will make this country blessed by God."
In a remarkable move, the Islamist politician did not use the word "Allah" for God, as is the case in the traditional call to prayer by Muslim imams. He said, "Tuhan," the Indonesian word for God used by Indonesian Christians and others.
"In the constitution of the Indonesian state, we state in the preamble that this Indonesian state is independent because God Almighty blesses it," the party strongman continued. "So this Indonesian state is a religious country. And even in some cases, we can give examples to other countries that Indonesia is a nation that can unite despite extraordinary diversity."
But he admits that this isn't easy. "Sometimes, it is rather difficult to unite. Because we have so much diversity, that's because of religious and linguistic differences. And we have many separations by water because this is a country of many islands. So how we can unite is by building better communication among each other. And one of the most important ways to do that is by interfaith dialogue."