By Stefan J. Bos, Chief International Correspondent Worthy News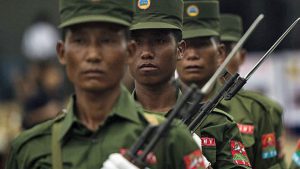 YANGON, MYANMAR (BosNewsLife)– One of Asia's leading humanitarian agencies urged Christians Thursday to pray for Myanmar's "suffering people" after hundreds died in the South Asia nation's military coup.
Gospel for Asia (GFA World) cited reports that some 114 people — including children — were killed since last weekend across the country.
It brings the death toll to more than 400 since the February 1 coup when the army seized control of Myanmar, also known as Burma, Christians said. Most of those killed participated in pro-democracy protests.
Several Christians were also killed in airstrikes by the Buddhist-majority army on villages in the country's Karen State, Christians told BosNewsLife
"As with any crisis, it's the innocent that suffers the most," said K.P. Yohannan, founder of GFA World. "At GFA World, we're asking people everywhere to join us in praying for peace, justice, and God's protection over the people of Myanmar during the current turmoil."
PRAYERS URGED
Yohannan also demanded prayers for the hundreds detained, including legislators, doctors, and government officials.
Among those held in custody is the country's ejected civilian leader Aung San Suu Kyi. "Every single night is spent with fear, and dawn seems so hard to reach. The people are restless, and they're exhausted physically and mentally. Many businesses have been burned down," Yohannan added.
World leaders have condemned the coup and the military's violence against protesters demanding freedom. "Myanmar's people need our prayers and support more now than ever," stressed Yohannan.
He said his Texas-based evangelistic organization helps millions of children and families across Asia through its child-sponsorship program and clean water "Jesus Well" project.