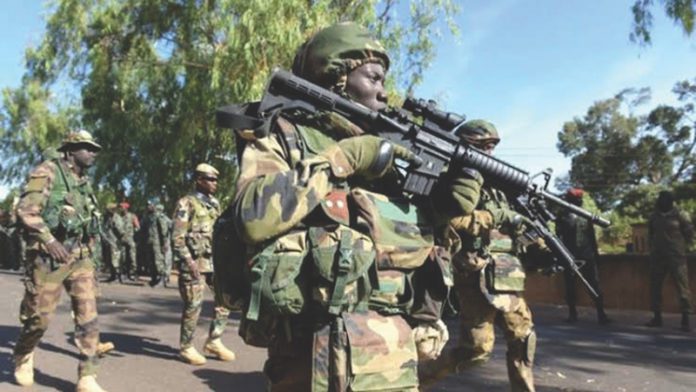 By Stefan J. Bos, Chief International Correspondent BosNewsLife
ABUJA, NIGERIA (BosNewsLife) – Pressure mounts on the Nigerian government to explain the military's role in attacks by suspected Islamic Fulani militants against Christians in the northern Kaduna State that left at least 32 dead.
The well-informed Adara Development Association (ADA), which supports the mainly Christian Adara minority, said the fighters arrived in Christian areas Sunday, June 5, on about 150 motorcycles, each carrying three persons armed with AK-47 rifles.
Soon after, a military helicopter appeared and started air strikes against locals trying to defend themselves, according to ADA investigators. "There were no way poorly armed farmers using crude weapons could face the combined fire strength of better-armed [Fulani militant] herdsmen and a gun-mounted helicopter. So with no other options, the Adara youths had to scamper for safety."
The ADA added that this "enabled the attackers to burn down the whole village" of Maikori, while several houses were also torched in the area's towns of Ungwan Sarki and Ungwan Gamu. Additionally, the building of the Evangelical Church Winning All (ECWA) in Dogo Noma "was razed down," the association stressed.
In the statement monitored by BosNewsLife, ADA's National President Awami Dio Maisamari urged the Nigerian Air Force to thoroughly investigate this incident and determine if the helicopter and the crew belong to the military. While 32 bodies have been recovered, the ADA suggested that the death toll may rise. "We are not yet sure how many casualties were caused by the gunshots from the helicopter. But some injured persons are taking treatments in various hospitals," Maisamari stressed.
ADA investigators cited reports of helicopters dropping weapons and provisions "to bandits," often Islamic militants and their followers, in and out of "the Adara Chiefdom" area. However, Samuel Aruwan, the Kaduna's Ministry of Internal Security and Home Affairs Commissioner, denied wrongdoing in separate comments. "The helicopter intercepted the bandits at the last location (Ungwan Maikori) and engaged them as they retreated," he said in published remarks. He added that the attack happened "before the arrival of ground troops to the general area."
MORE VIOLENCE
Christian aid group Barnabas Fund urged prayers for the bereaved, protection for the Adara people "from further attacks, and for wisdom for national and state governments in addressing the ongoing violence in Nigeria's Middle Belt" area.
Several sources confirmed that the violence is part of massive Islamic violence against Christians in several parts of Nigeria, including a Pentecost Sunday attack on a Catholic Church that killed at least 50 worshipers in Ondo State. Separately, a bishop from the Church of Nigeria and three evangelists have been kidnapped over the weekend by separate gangs in Nigeria, Christians said.
Bishop Oluwaseun Aderogba was reportedly abducted with his wife and driver by gunmen on Sunday, June 12, in southwest Oyo State. And in Kogi State in north-central Nigeria, shooters kidnapped evangelists Peter Adigidzi, Pastor Mike Baba, and Pastor Sunday Abah on Friday, June 10, according to Christians familiar with these cases.
"In Nigeria, a Christian is killed for their faith every two hours; that's nearly 13 Christians a day and 372 Christians a month," said the respected watchdog Open Doors. "They're sobering statistics—each number is a man, woman, father, mother, son or daughter who die violently just because they follow Jesus."
Research for the Open Doors 2022 World Watch List (WWL) shows that in 2021 more Christians were known to have been murdered for their faith in Nigeria than in any other country.
Last year, Nigeria accounted for nearly 80 percent of Christian deaths worldwide, with more than 4,650 believers killed, according to the WWL. "The death toll once again makes Nigeria the world's most violent place for Christians—for the second consecutive year," Open Doors added in its assessment seen by Worthy News.
Nigeria ranks 7th on the WWL of 50 nations where Open Doors says Christians suffer most for their faith.