By BosNewsLife Asia Service with reporting by BosNewsLife's Stefan J. Bos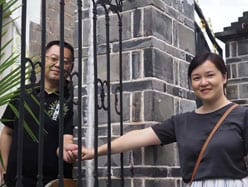 BEIJING, CHINA (BosNewsLife)– The wife of a prominent Chinese pastor has been freed from prison, a half year after being detained with her husband and some 100 other church members in southwestern China.
Jiang Rong, 46, the wife of Wang Yi, the pastor of the Early Rain Covenant Church, was released last week, several Christians confirmed. Jiang's sister, Li Xiaofeng, was also released pending trial. But their church building in Chengdu, the capital of China's Sichuan province, was closed by the government.
The news of her release and her reunion with the couple's son was confirmed on the church's Facebook website page. Chinese Christians remain concerned about the status of Wang, and at least some four other detained church members. Amid the tensions, authorities reportedly confirmed that the pastor and the other detainees were held on charges of "inciting subversion of state power," which may result in up to 10 years' imprisonment.
Similar accusations against Jiang may also be pursued by Communist party officials, because of her role in the church, according to Christians familiar with the situation. She reportedly led women's groups and hosted Bible study groups in the couple's home.
HOME RANSACKED
Pastor Wang's home was raided and ransacked by police on December 9. Christians suggested that the raid came after a 7,300 words manifesto titled "Meditations on the Religious War," which Pastor Wang wrote and posted on social media.
In it, he condemns China's Communist Party and urges Christians to perform acts of civil disobedience. Pastor Wang criticized the government for forcing its citizens to engage in "Caesar worship" by treating President Xi Jinping like a god.
He wrote that ideology "is morally incompatible with the Christian faith and all those who uphold freedom of the mind and thought."
Foreseeing his detention, Pastor Wang also wrote a separate open letter titled 'My Declaration of Faithful Disobedience' in September last year, BosNewsLife reported earlier.
He instructed his congregation to publish its contends should he be detained for more than 48 hours, according to Christians familiar with the situation.
CHRIST KING
In the letter, Pastor Wang warns authorities that he won't renounce his faith in Jesus Christ who he views as his real leader and King of kings. "Separate me from my wife and children, ruin my reputation, destroy my life and my family – the authorities are capable of doing all of these things. However, no one in this world can force me to renounce my faith; no one can make me change my life, and no one can raise me from the dead," Pastor Wang wrote.
"Jesus is the Christ, son of the eternal, living God. He died for sinners and rose to life for us. He is my king and the king of the whole earth yesterday, today, and forever," he added.
"I am his servant, and I am imprisoned because of this. I will resist in meekness those who resist God, and I will joyfully violate all laws that violate God's laws."
He urged China's "respectable officers" to "stop committing evil" and avoid the judgment of Christ. "I plead earnestly with you to stay your hands, for why should you be willing to pay the price of eternal damnation in hell for the sake of a lowly sinner such as I?"
DETENTIONS CONTINUED
Following the arrest of the pastor, Chinese authorities continued their crackdown on church members, according to rights investigators. In February security forces reportedly detained 44 people linked to the church, including ten children and even a two-month-old baby. "On the same day, Pastor Wang Yi's elderly mother, Chen Yaxue, was savagely beaten by a police officer," said Barnabas Fund, a Christian advocacy group investigating the situation.
It cited local reports as saying that one officer grabbed the pastor mother's hair and kicked her, while another held her down after she refused to reveal her peal identification number to him at a cash machine. There was no immediate known response to the allegations from authorities, but China's government has in the past defended its policies.
Pastor Wang is n as a prominent evangelical pastor in China. China's Southern People Weekly listed him as one of the "50 Most Influential Public Intellectuals of China." Wang also met U.S. President George W. Bush at the White House in 2006 to discuss religious freedom in Communist-run China.
Critics of the Communist leadership say devoted Christians are 'standing in the way' of China's Xi Jinping's totalitarian rule. Last year, China approved the removal of the two-term limit on the presidency, effectively allowing Xi Jinping to remain in power for life.
Some Communist officials have suggested there may be at least 130-million Christians in China, which has a population of roughly 1.4 billion people.