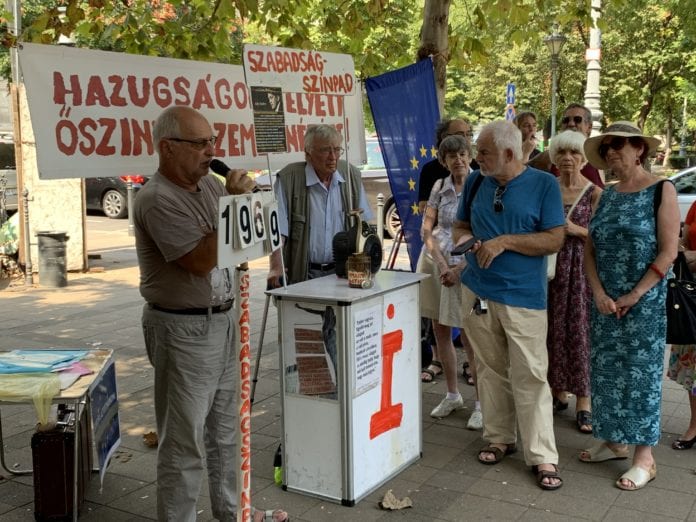 (Listen to this story via Deutsche Welle (DW), Germany's global broadcaster). 
By Stefan J. Bos, Chief International Correspondent BosNewsLife reporting from Budapest, Hungary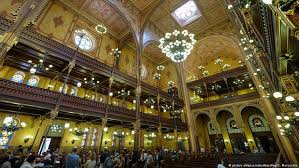 BUDAPEST, HUNGARY (BosNewsLife)– Hungary has hosted its annual Jewish Cultural Festival despite concerns about the way it remembers the Holocaust. Before the festival, suspected far-right extremists caused extensive damage to a memorial to victims of the Holocaust that killed six million Jews. But Festival organizers see their event as a way to promote Jewish traditions in a hostile society.
At Europe's largest synagogue, the Budapest Klezmer Band was entertaining officials of Hungary's right-wing nationalist government and other guests. It performed at the 22nd Jewish Cultural Festival in Budapest amid tight security.
The festival happened while Hungary commemorated the 30th anniversary of the end of Communist rule when openly celebrating Jewish traditions were discouraged. Not everyone seemed joyful. Take Hungarian playwright Fruzsina Magyar.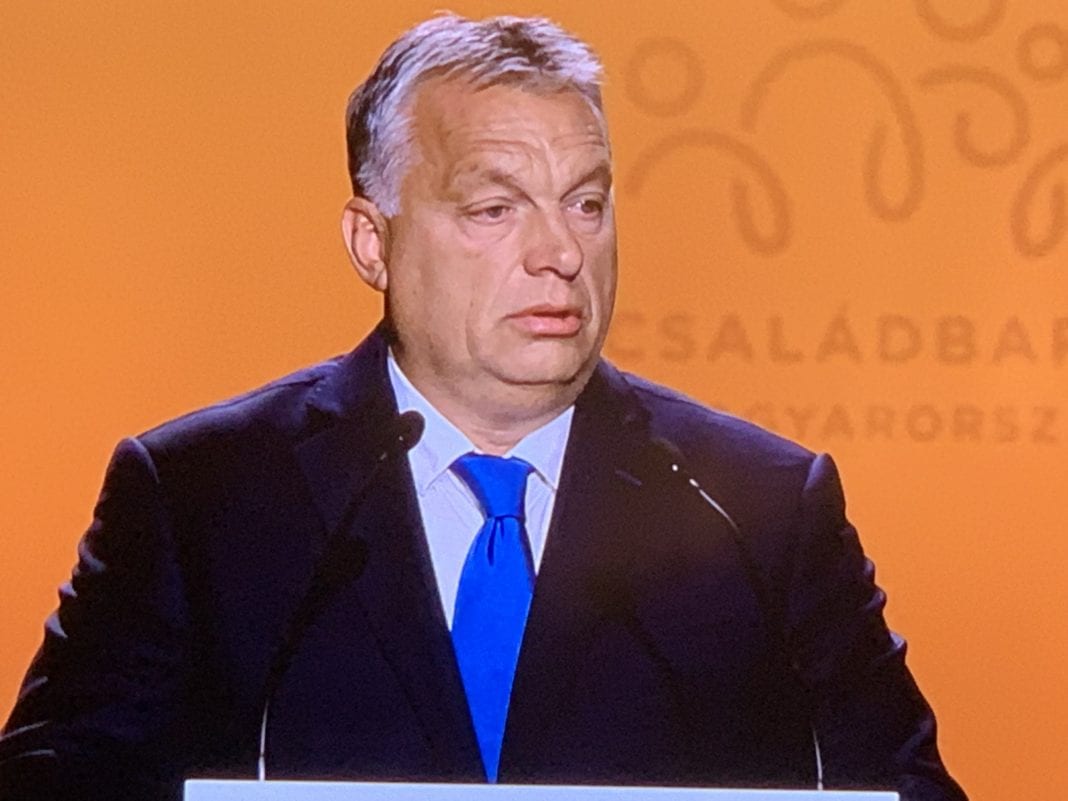 She suggested that Prime Minister Viktor Orbán misused the festival for international propaganda. "It is very positive, and it is very good that it takes place. But it's a shop window for the government," she told BosNewsLife and Deutsche Welle (DW) Radio.
"So this is a lie from the government because they allow and do anti-Semitism very much."
JOINING ACTIVISTS
Fruzsina Magyar joined Jews and activists at a large fountain on Budapest's Freedom Square in recent days. Some were in tears. Suspected right-wing extremists severely damaged a living memorial they created nearby.
It contained barbed wire and the personal belongings of Holocaust victims and others who suffered during the war when at least 600,000 Hungarian Jews were murdered.
Activist Gábor Sebő is visibly upset as he describes the damage. "In recent days it was damaged very severely, our living memorial. So all documents, all photos from World War Two or before and all family documents, letters and so. Even personal identification cards, and so on. These documents reflected the real suffering of Hungarian families," he recalled.
The living memorial was created opposite a controversial World War Two monument erected by the government five years ago. Activists say they wanted to protest against Prime Minister Viktor Orbán's alleged attempt to play down Hungary's role in the Holocaust.
Hungary fought alongside Germany for most of the war and was only invaded by the Nazis in 1944 after it started secret peace talks with the allies.
GERMAN EAGLE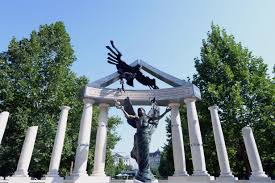 Fruzsina Magyar is furious that the government monument depicts Hungary as an angel being attacked by a German eagle. "It is ugly, but what it symbolizes is even more ugly: Not looking at our history as we have to. That the Nazis created the Holocaust also of course, but the Hungarian police and the Hungarian government took part during the Horty era in the Holocaust," she explained.
"That so many Hungarian Jewish people were killed, that is due to them. In our family, my grandfather's sister and her husband were killed in Auschwitz. My mother escaped twice from the Danube bank and the Jewish ghetto," the playwright said.
With their living memorial in ruins, the activists were weighing their options. Among them Imre Mécs, an elderly respected and outspoken former politician and author. "This [destruction] is the responsibility of the police, the government, and local authorities. They let it happen. When we were here to protest the government's war monument for 114 days, there was a massive police presence. And there were camera's everywhere," he insisted.
Amid these tensions, the Jewish Cultural Festival continued. Organizers claimed it could contribute to a revival of Jewish culture in Hungary. And they have some cause to remain hopeful. Despite its troubled history and anti-semitic attacks, Hungary is still home to Eastern Europe largest Jewish community, outside Russia. But with anti-Semitism ongoing, the question remains open as to how long Hungary's remaining 100,000 Jewish people are willing to stay here.