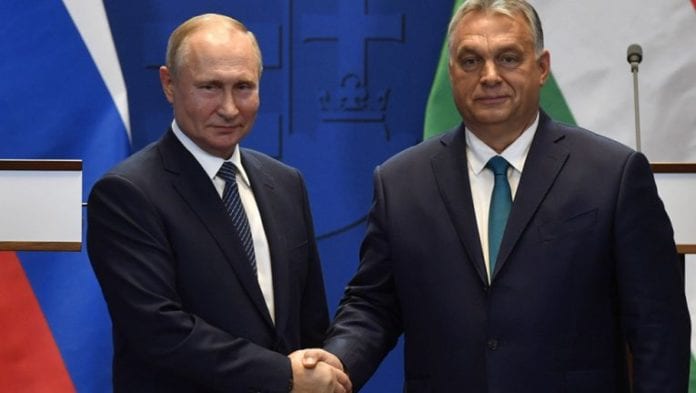 By Stefan J. Bos, Chief International Correspondent BosNewsLife reporting from Budapest, Hungary
BUDAPEST, HUNGARY (BosNewsLife)– Leaders of Hungary and Russia have agreed to cooperate in protecting persecuted Christians, including in war-torn Syria and other Middle Eastern nations.
Speaking in Budapest, Russian President Vladimir Putin expressed concern about a "massive exodus" of Christian communities. He said that supporting Christians in conflict areas is now "a top priority" for Russia
Putin discussed the plight of persecuted Christians with Hungary's fiercely anti-migration Prime Minister Viktor Orbán and leaders of Middle Eastern churches.
The Russian leader said his nation wants to join Hungary in efforts to protect Christians in troubled regions such as Syria.
Across the Middle East and Asia, 1 in 3 Christians experiences 'high' levels of persecution, according to the well-informed advocacy group Open Doors.
Hungary spent tens of millions of dollars on building or renovating churches, hospitals, and other humanitarian aid. Much is directed towards Christians in the Middle
East where thousands have been killed, injured, or displaced by wars and extremist attacks.
FACING CRITICISM
Putin, whose military faces criticism over conduct in areas such as Syria, says he views the Middle East as "the cradle of Christianity."
However, "Christians are in peril there, facing persecution, being killed, raped and robbed," the president noted. He pledged that Russia "would do everything" to protect Christians in the Middle East. Putin said Russia wants to help restore and preserve Christian "holy sites" and congregations.
He claimed that Russian forces are already assisting Jewish groups and that they have also restored mosques in the troubled region.
The Russian president also met leaders of Middle Eastern churches who expressed desperation about violence directed against them. "We are watching what's happening to the Christians in the Middle East with tears in our eyes," Putin told them.
"We are concerned with a massive exodus of Christians from the Middle East," he added.
ENDING EXODUS?
Prime Minister Orbán, who organized the church gathering, said he agreed with Putin that the exodus of Middle Eastern Christians should end. "This is also part of our policy that we call taking help to where it's needed instead of bringing the trouble over here," Orbán explained.
But he has come under fire by the European Union and some Christian rights groups about building huge fences along borders and holding asylum seekers in containers.
In practice, those actions impact mainly Muslim migrants.
However, Hungary has also been reluctant to accommodate Christian refugees, though Budapest claims it provides refuge to some Christian groups.
Hungary's prime minister defended his cooperation and perceived cozy ties with Russia, despite Western criticism over Moscow's role in conflicts such as in Syria, Ukraine, and elsewhere.
"GOD'S CREATION"
Orbán noted that Hungary could not change its postal address. "Every nation is where God created it. For Hungary, this is a Moscow-Berlin-Istanbul triangle."
He said Hungary depends much on Russian natural gas and oil and therefore wants to join the TurkStream gas pipeline to increase supply routes. The controversial pipeline would bypass Ukraine amid ongoing political tensions between Hungary and its neighbor.
Orbán defended Hungary's move earlier on Wednesday, October 30, to veto a declaration about Ukraine of the NATO military alliance. He said Hungary was upset that the statement did not contain references to the perceived discrimination of minorities.
Hungary says it is especially concerned about the treatment of some 125,000 ethnic Hungarians in Ukraine, many of whom belong to the Catholic and Hungarian Reformed churches.
Orbán's government claims that changes to Ukrainian education and language laws limit minority rights. Kiev also rejects allowing ethnic Hungarians to hold dual citizenship.
Hungary has provided thousands of passports to ethnic Hungarians in recent years.