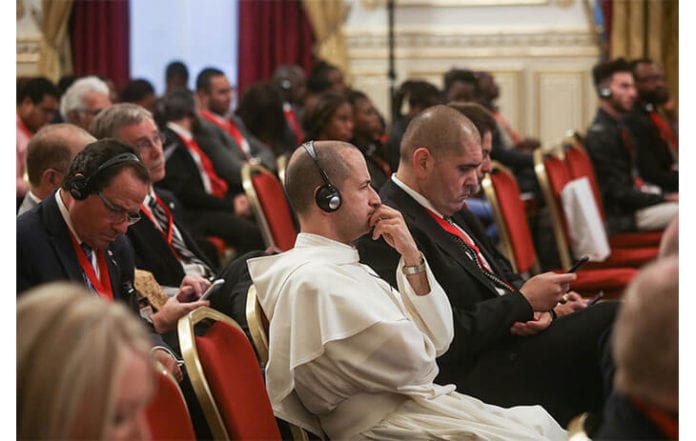 By Stefan J. Bos, Chief International Correspondent BosNewsLife reporting from Budapest
BUDAPEST, HUNGARY (BosNewsLife)– The United States and Hungary have agreed to help persecuted Christians in several nations. Still, questions remain about their treatment of Christian asylum seekers and religious rights violations closer to home.
At the Second International Conference on Persecuted Christians in Budapest, Hungarian and U.S. officials said help was needed as thousands of Christians are killed annually for their faith.
"We lose 4,000 Christians a year to murder due to religious persecution. That is up to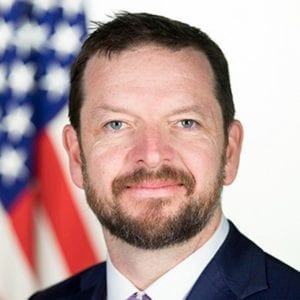 12 a day" explained U.S. envoy Joe Grogan, assistant to President Donald Trump. Some 80 percent of the world's persecuted believers are Christians, according to Hungarian estimates. "The horrific crimes and suffering endured by people who want to worship Jesus Christ are tremendously heartbreaking," Grogan stressed.
"We are partnering through the USAID [state program] with Hungary to help rebuild Christian communities," he added. The envoy noted that their activities focus on the Middle East and Africa. Rebuilding efforts are ongoing in Iraq and "there is a lot of work being done in Syria" as well as in Africa "to protect Christian communities," he explained at the end of the three-day gathering.
Grogan, who read a letter on behalf of President Donald Trump during the Conference said that his boss is "deeply invested" in this issue. USAID official Bonnie Glick told reporters that the Hungary Helps program includes rebuilding churches. But USAID focuses on developing infrastructure, building schools, and other activities to restart economies in the most deprived regions, she said.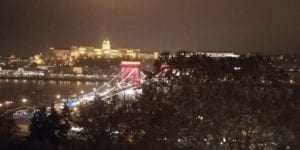 While the Conference was held, famed Budapest landmarks such as the Chain Bridge and the Saint Gellért Statue were being lit red late November 27, to remember those suffering for their faith in Jesus Christ on what is known as Red Wednesday.
SEVERAL COUNTRIES
Besides Hungary, Portugal, The Netherlands, Britain, and Ireland participated with churches and other buildings turning red, according to Aid to the Church in Need, the Catholic charity behind the initiative. "In Britain alone, some 120 buildings, among them 13 Cathedrals, were lit in red," the group said.
Back at the Conference, U.S. and Hungarian government officials did not address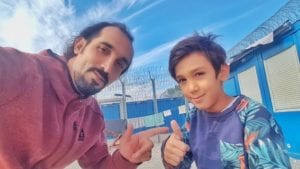 concerns raised by some Christian aid workers and others about their policies towards Christian asylum seekers. Among Christian refugees, an Iranian Christian father Abouzar Soltani and his 10-year-old son Armin held for nearly a year in blue containers at Hungary's notorious Transit Zone. Hungary wants to deport them back to Iran despite the father facing execution by hanging for converting from Islam to Christianity.
Hungary's rightwing nationalist government also faces criticism over a church law that critics view as the European Union's most restrictive religious legislation. Under the law, only dozens of over 300 faith groups in Hungary received formal recognition by Parliament to operate as churches.
After pressure from the European Court of Human Rights, Parliament somewhat amended the legislation. It now gives local courts exclusive rights to register religious associations. But rights groups such as Amnesty International claim the changes don't go far enough. They say Hungary's Parliament will continue to decide which church may become an incorporated denomination, in "a non-transparent, politically motivated manner and based on uncertain criteria."
The law has impacted several evangelical Christian groups and others not belonging to denominations with friendly ties to Hungarian Prime Minister Viktor Orban's government. But Glick said she hadn't noticed persecution of Christians on Hungarian territory or elsewhere in Europe.
RELIGIOUS PERSECUTION 
U.S. officials made clear, however, that it was Washington's policy to not only look at Christians but to all forms of religious persecution, including anti-Semitism. Glick expressed concerns about a recent government poster campaign involving Hungarian-born U.S. investor George Soros, who survived the Holocaust. The Hungarian government has accused him of supporting illegal migration. Glick made clear that the posters had anti-Semitic undertones.
But Hungary's government denies wrongdoing. And, its allies stressed at the Conference that the persecution of Christians is a separate issue.
Zsolt Németh, the head of Parliament's foreign affairs committee, said promoting religious freedom without mentioning the persecution of Christians would be like fighting racism without talking about hatred towards Jews. "Talking about anti-Semitism does not mean providing legitimacy to other forms of racism. Talking about the persecution of Christians is not equal to accepting the persecution of other religions," he noted.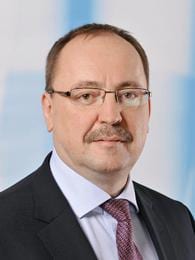 Németh stressed that raising awareness about Christian persecution would avoid "double standards under which more damage could be done to Christians" than to others. "This would harm democracy and human rights in the United Nations world order," he claimed.
Zoltán Balog, the prime minister's commissioner for social affairs, claimed Hungary had good reasons to support persecuted Christian communities in the Middle East. "If Christians living at the source of Christianity are killed, our own culture and faith will be killed, too."
MORAL DUTY 
That was music to the ears of the head of the Prime Minister's Office. Protecting persecuted Christians is a moral duty "and a cause we must stand up for on the international stage," said the official, Gergely Gulyás.
He suggested that ending the persecution "of Christians and bloody genocides" and another discrimination in Europe was possible in the 21st century. But it requires new approaches in public and academic life, he explained. It's crucial to show "strength, courage, and wisdom to stand up for those facing persecution," Gulyás demanded.
He urged the restoration of Christian faith throughout Europe as "it appears we're gradually cutting away our Christian roots."
However, the Vatican's ambassador, or 'Apostolic nuncio,' Antoine Camilleri warned these efforts might not be enough. He said a globalizing world would not automatically create equality between Christians and others.
He claimed that the manipulation of information poses "a real threat for democracy and the freedom of religion." He said companies with massive databases such as Google, Apple, or Facebook had become superpowers like the United States, China, or Russia.
MORE MEETINGS
More conferences on persecution are underway. But U.S. envoy Grogan said he had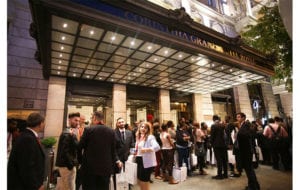 advised Hungary's government to hold the next gathering in a larger venue.
He noted that the number of delegates "doubled" in size from a similar meeting two years ago and could hardly fit in the upscale Corinthia Budapest hotel.
"I told the government that they should have a bigger venue. There were over 600 people now but I think it will double in size again."
Those attending the three-day gathering included major church leaders from the Middle East, Africa, as well as government representatives and non-governmental organizations.
Before the next Conference, Hungary, a predominantly Catholic nation, will hold in 2020 the 52nd edition of the International Eucharistic Congress. The one-week event held since 1881 celebrates the presence of Christ in the Eucharist according to the teaching of the Catholic Church.