By BosNewsLife's Stefan J. Bos with reporting by Devin Watkins at the Vatican and reports from Burkina Faso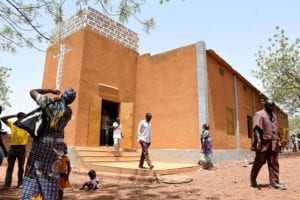 OUAGADOUGOU, BURKINA FASO (BosNewsLife)– Christians in Burkina Faso plunged into mourning after more than a dozen worshippers were shot and killed by suspected Islamic militants in the latest church attack to hit this volatile West African nation.
The government said, "Unidentified armed men" stormed a Sunday service on December 1 at a Protestant church in the town of Hantoukoura near the border with Niger in the eastern Est region. "This attack, unfortunately, left 14 dead and many wounded," it added in a statement.
Soon after, soldiers in the troubled region began hunting down the assailants, who fled on scooters, security sources told reporters.
Burkina Faso's armed forces were also caring for the wounded, the government said.
While there was no immediate claim of responsibility, an influential Catholic bishop linked the attack to Islamist propaganda. Bishop Justin Kientega of Ouahigouya said he believes that Islamic insurgents are "trying to create a conflict between religions in a country in which Christians and Muslims have always gotten along."
The violence came after the Est region was still reeling from another deadly attack on November 6. In that incident, suspected Islamic shooters opened fire on a convoy of buses carrying mine workers of a Canadian mining operation, killing up to 39 people. The ambush in eastern Burkina Faso was one of the deadliest attacks in nearly five years of Islamic violence.
RISING ATTACKS
But Sunday's violence against the church also underscored concerns about increasing attacks on Christian targets this year that already killed dozens of believers, according to church and government sources. Bishop Kientega warned that "A persecution of Christians is underway" in the landlocked nation of some 19-million people.
At least more than 60 Christians have been killed in the country in 2019, according to church estimates. Attacks intensified this year as Burkina Faso's under-equipped, poorly trained army struggles to contain the Islamist militancy in the former French colony, analysts say.
While not all anti-Christian incidents have been reported, Christians suggested that attacks began this year on February 15 when a 72-year-old priest was said to have been killed on the border at Nohao. He and two other priests walked into an Islamic attack at the border post as they traveled from Togo, Christian investigators said.
Soon after, on February 19, a 54-year-old pastor was murdered on the road between Tasmakatt and Gorom-Gorom. "Pastor Jean Sawadogo was killed while traveling to Gorom-Gorom. He left a widow and seven children," added Open Doors, a well-informed Christian aid, and advocacy group.
Other incidents included the murder of a pastor near the main town of Arbinda in the Sahel region on April 23 and the April 28 murder of six people at a church in the small village of Silgadji near Djibo in northern Burkina Faso. Suspected Islamic militants arrived on seven motorcycles around midday, towards the end of the service in Silhadji, Christians said.
ISLAM CONVERSION
They reportedly killed the 80-year-old pastor, his son, brother-in-law, a primary school teacher, and two others. They were allegedly told to convert to Islam, and when they refused, they were executed one by one. "Pastor Pierre Ouedraogo left behind his wife and six other children," Open Doors explained.
The reported May 12 killing of six people, including a priest, by gunmen who stormed a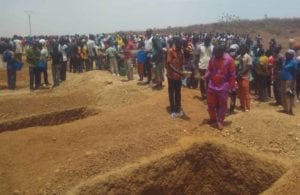 Church in Dablo in northern Burkina Faso during a worship service was another attack that shocked Burkina Faso's Christian minority. The attackers burned down the church, shops, health center, and other community buildings, according to Open Doors investigators.
Executions happened in May, Christians said. On May 13, four believers in Singa were killed in the municipality of Zimtenga in the central north. The church members were bringing a statue of Mary back to their parish in Zimtenga when they were intercepted: "The attackers let the children go before executing the four adults," said Open Doors, which has visited troubled areas.
The May 26 murder of four worshipers during a church worship service in Toulfe was another in a long series of incidents. Catholic sources said eight heavily armed individuals arrived in the village around in the morning on four motorcycles. They reportedly entered the church and shot dead three people.
A fourth Christian was said to have died later as a result of wounds. An unknown number of people were injured in the attack, according to Christians familiar with the situation. Bishop Kientega said in published remarks that those who carry out anti-Christian attacks also spread terror to gain control of land left behind by those who flee the violence. He said the West African country's Catholic Bishops had decried the state of affairs for months, "but no one listens. Obviously, they prefer to protect their own interests."
WEST BLAMED
He accused Western media and governments of mainly ignoring the deaths that he suggested due to an ongoing Islamic insurgency and arms trade. "Many Western powers obviously have some reason to let the violence continue. Their profit is more important than our lives," he added.
Insecurity in the region, the Bishop said, dramatically limits the Catholic Church's ability to care for the faithful. That's why "Western powers must stop those who commit these crimes, rather than sell them weapons they use to kill Christians," he stressed.
Besides Christians, others have suffered as well. Attacks in Burkina Faso, which borders Mali and Niger, began in the north but spread to the east and the west of the country in 2018, while the capital Ouagadougou has been hit three times.
Most of the violence is attributed to anti-Christian Islamic militants affiliated with Al-Qaeda or the Islamic State groups. Amid the turmoil, more than 1,000 people were reportedly killed in Burkina Faso since 2016,
Nearly half a million people more have fled their homes because of the attacks, mainly this year, according to the United Nations.