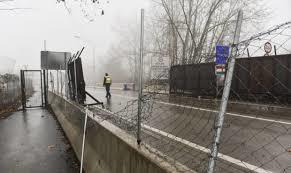 BosNewsLife WORLD WATCH
By Stefan J. Bos, Chief International Correspondent BosNewsLife
BUDAPEST, HUNGARY (BosNewsLife)– Tensions are rising at Hungary's southern border after warning shots were fired when scores of migrants tried to enter Hungary through a border crossing with Serbia. Four of them were detained and sentenced to prison soon after the incident. The shootings came amid concerns among Hungarian authorities about what they view as the growing influx of migrants fleeing war, persecution, or poverty.
Listen to a shorter BosNewsLife News report via Vatican Radio: 
Within two days after they escaped bullets, a Hungarian court in the town of Szeged already concluded the four detained migrants were quilty. It sentenced the four men, two Syrians, and two Palestinians, to a year imprisonment. They also face a four-year expulsion from Hungary.
Hungarian authorities said they were among roughly 80 migrants who tried to break through the border fence near the village of Röszke early on Tuesday, January 28.
Officials confirmed that a security guard fired three warning shots when the migrants tried to enter Hungary. Video footage seen by BosNewsLife and Vatican News shows people running passing a border crossing with Serbia and climbing and jumping over a fence.
Huge lights are directing at them. Many run back, apparently after warning shots were fired, and police arrived at the scene.
ARMED GUARDS
Police said that three armed security guards were on duty at the border crossing. One of them fired the warning shots into the air after the group initially refused to stop and return to Serbia.
The border crossing at the southern village of Roszke had been closed for the night when the attempt occurred.
But police claimed they were able to stop most of the migrants from entering Hungary. The four sentenced to prison were reportedly caught at the scene and detained.
Hungary has been criticized over its perceived crackdown on asylum seekers fleeing war, persecution, and poverty. But Hungary's Minister of Interior Sándor Pintér has defended the latest actions by border guards. "I can confirm there were illegal attempts to enter Hungary," he said. He added that "police are ready to deal with any attempt to enter Hungary illegally."
The minister described the latest warning shots incident as "proof that nobody can enter Hungary either alone or in groups without permission." Pintér says he is very proud of the leaders of the border police group. "They proofed that they can guarantee the security of the country."
RESTRICTIVE CHANGES
Hungary's government says the influx of migrants caught by security forces at the southern border has been growing. Since late October, the number rose from roughly up to 300 a day to around 1,000 daily, or more, in recent weeks, officials said.
They include many sent back to Serbia through gates in the border fence, those prevented from crossing and those detained near the border. Hungarian prime minister Viktor Orbán, who is in the middle of his third consecutive term, has campaigned on strict anti-immigration measures.
Orbán has expressed concern about a "Muslim invasion". But authorities are also putting Christian asylum seekers in blue containers near the Hungary-Serbia border, BosNewsLife learned. Among them an Iranian father and his young son, who have been waiting for more than a year to receive asylum.
Advocacy groups say restrictive changes to Hungary's asylum and immigration legislation have made it nearly impossible for asylum-seekers to receive protection in Hungary.
Still, many migrants and refugees try to reach European Union member state Hungary on their way to more prosperous and more welcoming Western nations.