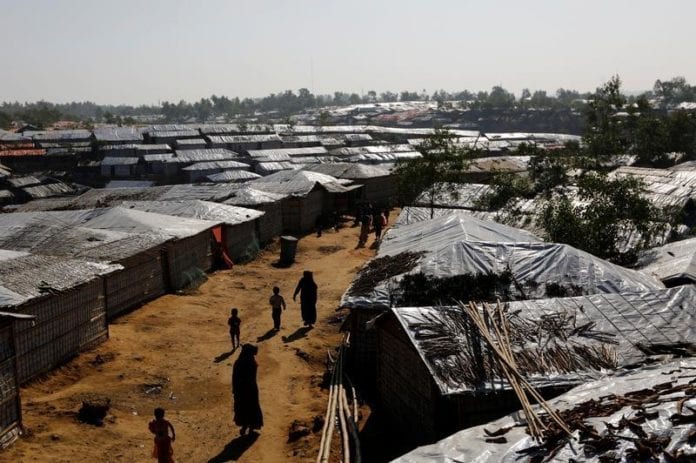 By Stefan J. Bos, Chief International Correspondent BosNewsLife
DHAKA/BRUSSELS (BosNewsLife)– Concerns are mounting over the whereabouts of a Rohingya Christian pastor and his teenage daughter, abducted from a refugee camp in southeastern Bangladesh by suspected Muslim rebels. European legislators and a Christian evangelist who fled Bangladesh told BosNewsLife that the kidnappers threaten to kill Pastor Abu Taher. They also fear that his daughter, 14-year-old Mizan Atker, was forced to marry and convert to Islam.
Both Christians were kidnapped early January 27 from their shelter in a refugee camp 'Kutupalong Camp 2' in Cox's Bazaar city, several sources confirmed. The kidnapping happened after the area was reportedly raided by an angry mob that residents linked to the Arakan Rohingya  Salvation Army (ARSA), an ethnic Rohingya armed group.
Initial reports cited by the Human Rights Watch advocacy group said at least scores of people were involved in the attack. But European Union legislators investigating the case suggested that more people were participating in the riots. "Hundreds of people – including most likely militants from the ARSA rebel movement – attacked about a hundred Christians," they said in a statement sent to BosNewsLife.
"Six of them were seriously injured, and 11 people were beaten. Eighteen houses and a church have been looted and destroyed."
Amid the turmoil, Pastor Abu Taher and his teenage daughter Mizan Atker were "kidnapped by the ARSA rebel movement," they added. "When the abductee's wife complained to the police, the ARSA called her and threatened to kill her husband if she didn't remain quiet. In another call, they informed her that her husband was being tortured and that her daughter had been forcibly married to an ARSA member."
Taher's wife, Roshida, earlier was quoted as saying that she fears that her husband was murdered. She told Human Rights Watch that,  "No one can give me any clear information, but my relatives told me that my daughter had been forced to convert to Islam and marry."
 
CHRISTIANS RELOCATED
Bangladesh authorities have described the violence as an "ordinary law and order incident" and not an attack aimed at Christians. Christian families disagree. They have relocated from the refugee camp to a United Nations transit center and filed a police case against 59 assailants, rights activists said.
Victims claim that officials are not doing enough to protect them or to find the pastor and his daughter. Camp officials "try to avoid our queries," said one man, cited by Human Rights Watch. Another refugee reportedly said a police officer in Cox's Bazar told him that if the victims wanted to be safe, they should "go to the moon."
Their concerns have been noted by Mark Huda Junayed Fino, a Christian evangelist who fled Bangladesh after Islamic militants threatened to kill him. Speaking from his hiding place, he told BosNewsLife that he appealed to Bangladeshi Prime Minister Sheikh Hasina to rescue the father and his daughter. "It is feared that the daughter may have been forced to convert to Islam and marry against her will and that Pastor Taher may have been killed,"
he wrote in an online petition.
"Bangladesh authorities should take immediate action to rescue Pastor Taher and his daughter, and bring those responsible to justice.  They should also act to protect all religious minorities and vulnerable groups in the country's refugee camps."
His views are shared by Peter van Dalen, Dutch Christian legislators in the European Parliament of the European Union. In a letter, Van Dalen and 19 other parliamentarians asked Filippo Grandi, the United Nations High Commissioner for Refugees, and  EU foreign chief Josep Borell to intervene.
DEMANDING PROTECTION
They want the officials to "do everything to encourage the police and army in Bangladesh
to find Abu Taher and Mizan Atker as quickly as possible and to release them." The legislators deemed it crucial that Christian Rohyinga, "who are a minority within a minority," receive protection.
There were several previous cases of violence towards Christian refugees, including against 14-year-old Abdul Jalil. He was reportedly stabbed five times in May last year, according to the legislators' letter seen by BosNewsLife.
Separately, a mob of 100 people ransacked Christian homes and attacked three men Nuru Fakir, Jafor Hossen and Abu Taleb, in the same month, the legislators wrote.
The legislators signing the letter acknowledge they are from different countries and political parties. "But we all agree that freedom of religion is a human right that needs to be protected."
 
DOUBTS REMAIN
However, Evangelist Fino remains doubtful that religious liberties will improve soon in his native Bangladesh. He sees an "alarming increase" of persecution of minorities such as Rohingya Christians.
An estimated 1,500 Rohingya Christians are among the more than 700,000 predominantly Muslim Rohingya who said they were forced to flee to
Bangladesh from neighboring Myanmar, also known as Burma. Refugees and rights activists say Myanmar's military has been involved in an ethnic cleansing campaign against the Rohingya community since 2017.
Rohingya Christians have previously reported facing threats and violence in the camps. The UN special rapporteur on human rights in Myanmar, Yanghee Lee, has expressed her concern for Rohingya Christian refugees, who she said are facing "hostility and violence."
Christians comprise a tiny minority in impoverished Bangladesh, where most of the roughly 163 million people are Muslims.