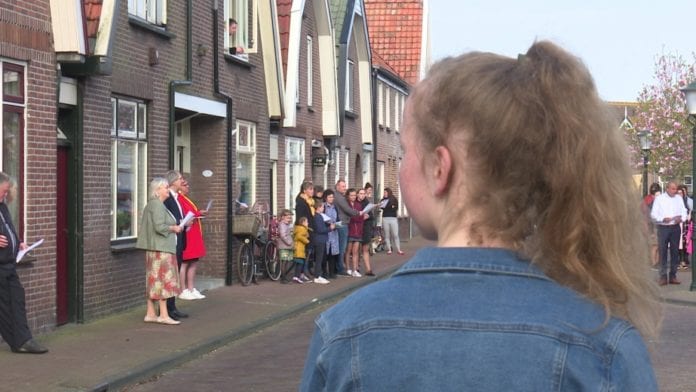 By Stefan J. Bos, Chief International Correspondent BosNewsLife
URK, NETHERLANDS (BosNewsLife)– Christian songs reverberated throughout the Dutch town of Urk as residents took to the streets to celebrate Easter outside closed churches in one of Europe's most God-fearing communities. They gathered Sunday, April 12, after the 57-year-old housewife Jannie Molenaar expressed concern that locals would no longer be able to sing in churches due to the coronavirus pandemic.
On social media, Molenaar had urged the people of Urk, an hour's drive from Amsterdam, to "go outside, just on the street!" at 0900 a.m local time. "I also asked King Willem-Alexander to sing, but I didn't hear back from him," she complained. But many responded following her appeal on her Facebook website.
"I even got a call from a local journalist, and my idea was soon on the front page of the regional newspaper."
She stressed that singing "doesn't have to be loud; it can also be whispering." Many responded to her call. "That I managed this as an ordinary housewife from Urk, wonderful," Molenaar said.
Residents were seen singing from balconies, near doorposts, or on the streets. Locals were careful to observe the government-imposed social distancing. "I shed some tears. I think angels in Heaven join us in singing for the Lord," said Urk resident Wilsophie Schouten.
STREET MUSICIANS
A pianist and a youngster on drums were among those accompanying the singing Christians on a sunny Easter Sunday morning. Referring to the coronavirus pandemic, Molenaar stressed that it was crucial to "convey a beautiful message that helps in this day and age."
The Netherlands recorded nearly 2,800 coronavirus deaths. That prompted the government to limit visits to the elderly and other vulnerable people. "People are looking for peace. I recently said to my husband: 'What if you are alone at home these days and you don't see anyone?'. Then I can understand that you get into depression," Molenaar told reporters.
"That is why this happy Christian Easter message is essential now. Call on Him." She acknowledged that "in bad times," people are often wondering, "where is God now?". However, "I want to say that He is here. He responds with His Word in its own time. We shouldn't doubt that."
Many of Urk's 20,000 people agree. The postcard-perfect town, known for its traditional fishing community, has more churches and congregations than most other municipalities in Europe.