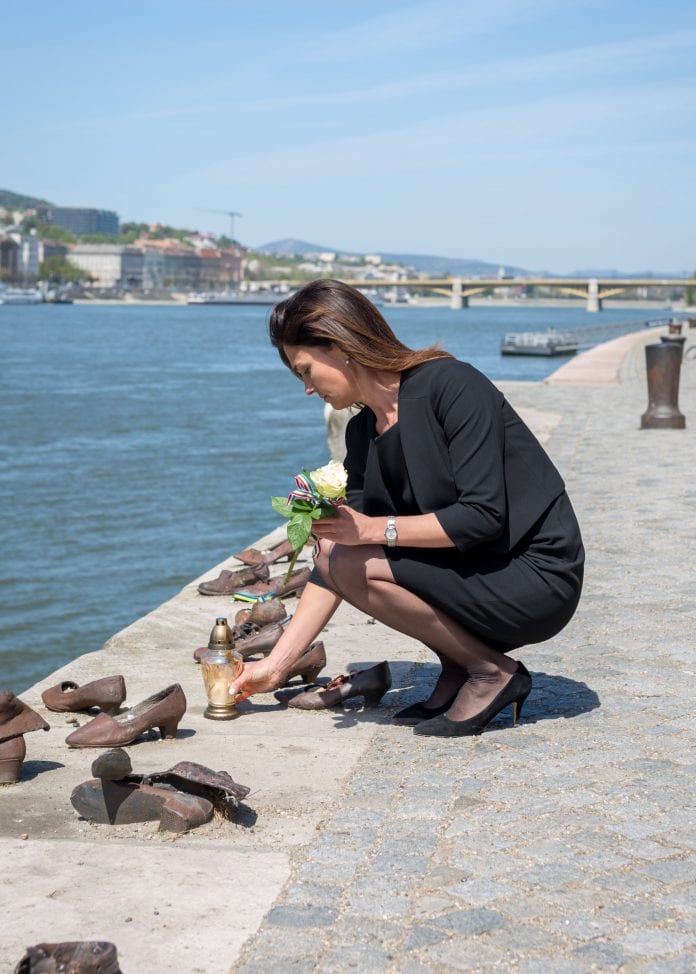 BosNewsLife WORLD WATCH
By Stefan J. Bos, Chief International Correspondent BosNewsLife reporting from Budapest, Hungary
BUDAPEST, HUNGARY (BosNewsLife)– With much of Hungary in lockdown, a minister attended a quite ceremony to remember the 600,000 Hungarian Jews killed in the Holocaust or Shoah. While much attention focuses on the coronavirus pandemic, Justice Minister Judit Varga made clear those who died should never be forgotten.
Dressed in black, she placed pebbles, flowers, and candles at the Shoes on the Danube embankment monument in Budapest, the capital.
The famed composition comprises 60 pairs of metal shoes set in concrete on the embankment of the Danube river. It was unveiled in 2005 to commemorate the many Hungarian Jews who were shot and thrown into the river by Hungarian Arrow Cross militiamen, who supported Nazi Germany. At three separate places of the memorial, cast iron signs read in Hungarian, English, and Hebrew: "To the memory of victims shot into the Danube by Arrow Cross militiamen in 1944-45".
Varga visited the moving monument on Holocaust Remembrance Day, which has been held in Hungary on April 16 annually since 2001. This day marked the establishment in 1944 of Budapest's notorious Jewish ghetto from where many Jews were deported to death camps or the Danube for execution.
Varga told media that the act of commemoration was an essential way of warning future generations "of the tragic consequences of a nation losing its freedom." She added that the Holocaust should never be allowed to happen again. "The Hungarian government is proud that our Jewish compatriots can live in a secure environment in Hungary. And prosper culturally while pursuing their religious life."
REMEMBERING PAST
In separate remarks, she stressed how "we remember the past and the way we act in the present also determines our future. As long as we can raise a generation that can become a hero in difficult situations, our world is not lost."
However, Hungary's right-wing government has also come under pressure after Prime Minister Viktor Orbán praised Hungarian wartime regent Miklós Horthy as an "exceptional statesman." Under Horthy, Hungary introduced Europe's first anti-semitic laws, and it was a close ally of Nazi-Germany during most of World War Two.
Additionally, at least some Jews and activists are angry that the government erected a monument depicting Hungary as an angel being attacked by a German eagle. They say it downplays Hungary's role in the war.
The government claims it has zero tolerance towards antisemitism that has surfaced in Hungary and other European countries.
(BosNewsLife's WORLD WATCH is a regular look at key news developments impacting the Church and/or compassionate professionals in primarily, but not limited to, (former) Communist countries.)