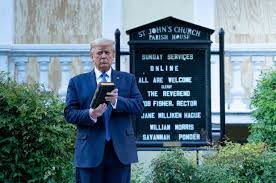 By BosNewsLife Americas Service with additional reporting by BosNewsLife's Stefan J. Bos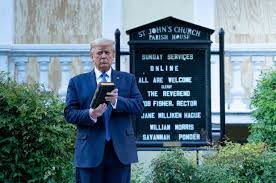 WASHINGTON, USA (BosNewsLife)– American Christians began to worship Sunday, June 7, amid concerns about damaged churches after U.S. President Donald Trump urged more prayers for America.
Churches across the nation churches were vandalized as protests over the death of George Floyd in police custody turned into anti-Christian violence and looting.
Among targeted buildings in recent days is the St. John Episcopal, a historic church directly behind the White House in Washington, D.C.
It was damaged last Sunday night by protesters who set up a bonfire in front of the church.
The fire later spread to the St. John's basement and an adjacent building owned by the church, witnesses said. Police began breaking up the crowd after the fire broke out, and as an 11 p.m. curfew set by Mayor Muriel Bowser neared.
FIRST BASILICA
Earlier America's first basilica sustained fire damage in riots in the U.S. city of Minneapolis following the death of Floyd, a black man who was killed by a white police officer May 25.
"The Basilica of Saint Mary did withstand minor damage… No one was injured in the incident. At the time, we pray for peace and healing in our city," the church explained in a statement seen by BosNewsLife.
The basilica church was dedicated in 1914, as a pro-cathedral for the Archdiocese of St. Paul and Minneapolis. It was designated a minor basilica by Pope Pius XI in 1926, the first church in the country to be so
St. Patrick's Cathedral in New York City, one of the most famous churches in the United States, was also vandalized last Saturday night with references to the Black Lives Matter movement and the F-word, reporters said.
Amid the turmoil, U.S. President Trump issued an executive order this week declaring religious freedom "a moral and national security imperative."
VISITING CHURCH
He also made it a point to visit the fire-hit St. John Episcopal church near the White House to pose for photos with Bible in hand.
Trump's order states that religious freedom for all people worldwide is a foreign policy priority that the administration will vigorously promote.
Among the means of promoting the policy will be making foreign aid-dependent on how well a potential recipient protects religious liberty.
"Our Founders understood religious freedom not as a creation of the state, but as a gift of God to every person and a right that is fundamental for the flourishing of our society," the order notes.
Separately, Trump declared houses of worship "essential services" and urged state governors to reopen them despite concerns over the coronavirus pandemic