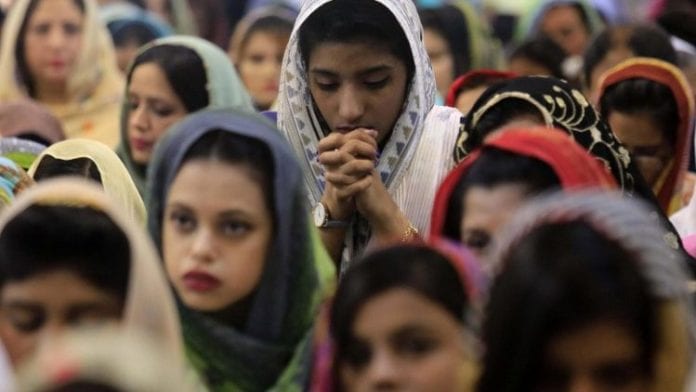 By Stefan J. Bos, Chief International Correspondent BosNewsLife
ISLAMABAD, PAKISTAN (BosNewsLife)– There is growing anxiety about the plight of several teenage Christians girls who were forced to marry and convert to Islam, according to rights activists familiar with their plight.
The Voice Of the Martyrs Canada (VOMC) said 14-year-old Maira Shahbaz is now hiding in Pakistan's Faisalabad area after escaping her captor. She stays with her mother and siblings, and Pakistani police have reportedly been ordered by the courts to ensure her security, the advocacy group added.
Shabaz was reportedly abducted at gunpoint in April by Mohamad Nakash and his two accomplices while walking to her home near Faisalabad. "She was then forced to convert to Islam and marry her abductor. The teen girl's parents challenged the validity of the marriage. But Mohamad presented a marriage certificate falsely stating that Maira was 19 years old," VOMC reported. The kidnapper has also issued death threats against Maira and her family if they continued to pursue legal action, investigators said.
On July 30, a Pakistani court ruled that Maira should be allowed to stay in a women's shelter until the Lahore High Court heard her case. However, on August 4, the High Court judge reportedly said the conversion and marriage were legal. "She was ordered to remain
with Mohamad and "be a good wife." The court disregarded her birth certificate and baptismal certificate, which indicated her true age.
Following this ruling, Maira was reportedly in tears," VOMC said.
"With this ruling, no Christian girl in Pakistan is safe," a friend was quoted as saying. Separately, concerns remain about 15-year-old Saneha Kinza Iqbal, who was kidnapped in on her way to church.
SUSPECTS NAMED
The kidnapper was identified as Saeed Amanat, a 30-year-old, a married man with four children. Saeed is a security guard at a hospital in Faisalabad, where Shaneha's mother underwent treatment in June.
BosNewsLife agreed to publish suspects and victims' names as they were publicly available. VOMC said that during the hospitalization of Saneha's mother's hospitalization, the abductor became familiar with the young girl, finding out where she lived.
"When Saneha did not return home after prayers that morning, a neighbor confirmed seeing Saeed in a vehicle with her. Although the girl's family reported the incident to police, officials refused to take any action."
Saneha's brother, Waseem Morris, then went to Saeed's home, where the abductor's father promised that Saneha would be returned, according to Christians knowing the case.
"But a few days later, he changed his mind. On July 28, the kidnapper phoned the young girl's family, threatening them if they took any further action," added VOMC in remarks to BosNewsLife.
FATE UNKNOWN
"While Saneha's fate is not known at this point, her family is concerned that she will be forcibly converted to Islam and married. That is similar to the situations facing Maira and another young teen girl, Huma Younus, whose case was previously reported by VOMC earlier this year."
Despite appeals from Maira's family, police either refuse or are reluctant to investigate, Worthy News learned.
These are no isolated incidents. Pakistan, a heavily Islamic nation, has come under international pressure to end child marriages. The United Nations children's fund UNICEF estimates the number of underage marriages recorded in Pakistan more than 1.91 million. According to UNICEF, about 21 percent of Pakistani women are married below the age of 18, including three percent before they turn 15. Rights groups believe there are many Christian girls among them.
VOMC said it urged its supporters to pray for "Maira, Saneha, Huma, and other previously abducted Christian girls. Ask Him to mightily intervene by rendering His justice in each of their cases." It was also crucial to pray that God would provide needed help and consolation to their distraught families, the group said in a prayer alert to supporters.
"Pray that God's ministering angels will surround each of these girls, their loved ones, and all who courageously advocate on their behalf, with divine protection. May His Holy Spirit's conviction be upon the abductors, and all who encourage such crimes against vulnerable teen girls."
It was necessary, VOMC said, to "bring to light the seriousness of their wrongful actions so they will acknowledge their need for repentance and endeavor to do what is right."