By Stefan J. Bos, Chief International Correspondent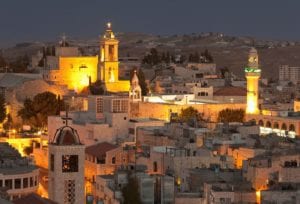 BETHLEHEM (BosNewsLife) – Church leaders and local authorities say they are preparing Christmas celebrations in Bethlehem, the Biblical birthplace of Jesus, despite a reported increase in coronavirus cases. "Bethlehem is going to celebrate Christmas. And Christmas will not be canceled," pledged Mayor Anton Salman.
He spoke whIle reporters noticed workers behind him erecting a giant Christmas tree in Manger Square. "This Christmas from Bethlehem, there will be a message of hope to the whole world, that the world will recover from this pandemic," Mayor Salman added.
However, midnight mass at the Nativity Church on Christmas Eve will take place with no congregation. Additionally, practice for the scout bands that lead festive processions has been disrupted by lockdowns. However, scouts say they still hope to bring a message of comfort and joy.
That is music to the ears of the newly-appointed Latin Patriarch of Jerusalem, Pierbattista Pizzaballa. He sought to rally the "Holy Land faithful", saying that preparations had already started. His fellow Franciscan friar Father Francesco Patton, the Custodian of the Holy Land, launched the seasonal celebrations on Saturday. He presided over service in a near-deserted Church of the Nativity.
"This Christmas will be less festive than usual as there will be restrictions, I suppose like any other part of the world," Pizzaballa said in published remarks. But a local Reuters news agency journalist said Bethlehem was "shaping up for a dismal Christmas." The reporter, Rami Ayyub, noted that "most of the inns are closed, the shepherds are likely to be under lockdown, and there are few visitors from the east, or anywhere else."
The sad Christmas added to anxiety within the Christian minority in the Palestinian Territories, which also faced incidents of Islamic oppression, Christians say.
Those tensions contributed to a dwindling Christian population in the area. According to Christian estimates, in Bethlehem, only 1 in 5 residents today are Christians (22 percent). A decade earlier, more than 4 in 5 were believers (84 percent).