WORLD WATCH
By Stefan J. Bos, Chief International Correspondent BosNewsLife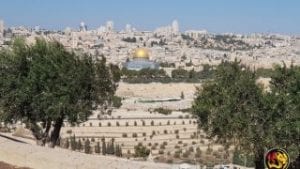 JERUSALEM, ISRAEL (BosNewsLife)— Kosovo has become the first Muslim-majority nation to open an embassy in Israel's capital Jerusalem.
The Balkan nation's Foreign Ministry said the move followed the establishment of diplomatic ties with Israel on February 1 and a Kosovo-Serbia summit at the White House in September. "The Ministry of Foreign Affairs and Diaspora announces that the Kosovo Embassy in the State of Israel, with headquarters in Jerusalem, officially has been opened," it added in a statement.
Kosovo made the decision despite seeking membership of the European Union which opposes opening embassies in Jerusalem.
The tiny nation of some two million people is the third country after the United States and Guatemala to have an embassy in Jerusalem.
Kosovo's decision was taken when outgoing Prime Minister Avdullah Hoti met with Serb President Aleksandar Vucic at the White House in September with then-President Donald Trump. "Setting of the plaques and the state flag at the Kosovo Embassy in Israel reflects the Government of Kosovo's commitment to comply with the pledge for establishing the diplomatic mission to Jerusalem," it said.
The decision was expected to be condemned by Palestinians who claim east Jerusalem, captured by Israel in the 1967 Mideast war and later annexed, as the capital of a future state.
On Saturday, March 13, the Palestinian Authority and the Arab League lashed out at the Czech Republic's opening of a diplomatic office in Jerusalem as a violation of international law. Prague established a Jerusalem branch of its Israel embassy, located in Tel Aviv, on Thursday.
Czech Prime Minister Andrej Babis attended the inauguration. It came two weeks after Israel sent 5,000 Moderna COVID-19 vaccine doses to the Czech Republic under a "vaccine diplomacy" program.
(BosNewsLife's World Watch is a regular look at world developments in especially but not limited to (former) Communist nations impacting the Church and/or compassionate professionals).