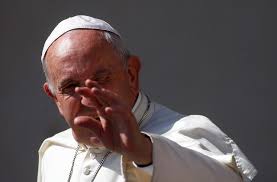 By Stefan J. Bos, Chief International Correspondent BosNewsLife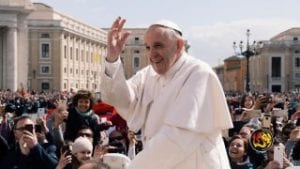 BAGHDAD, IRAQ (BosNewsLife)– Pope Francis has visited Iraq to reassure the nation's dwindling Christian community of his prayers after years of Islamic attacks and persecution.
"We believers cannot be silent when terrorism abuses religion," Francis said at an interfaith service Saturday, one of the many stops on the first-ever papal visit to the war-torn nation.
The leader of more than a billion Catholics visited Christian communities that suffered under the Islamic State group until the jihadists' caliphate was defeated three years ago.
The 84-year-old, traveling under tight security, lead a prayer "for the victims of the war" in Mosul. It is seen as an ancient crossroads whose center was reduced to rubble by fierce fighting to oust
The number of Christians in Iraq, a Muslim-majority country of 40 million, had shrunk from 1.5 million before the 2003 U.S.-led invasion that ousted dictator Saddam Hussein to 400,000 now, about 1 percent of the population.
Pope Francis was seen praying in churches' ruins destroyed by the Islamic state and celebrated an open-air Mass.
CHRISTIANS HOPEFUL
"We all hope that this visit will be a good omen for the Iraqi people," Adnane Youssef, a Christian from northern Iraq, told reporters about the pope's trip. "We hope that it will lead to better days." An Iraqi Christian leader, Reverend George Jahoula, agreed. "This very important visit will boost our morale after years of difficulties, problems, and wars," he said.
Pope Francis later was in northern Iraq Sunday, where he prayed in the ruins of churches destroyed by the Islamic state and celebrated an open-air Mass.
He also met in the area Hungary's state secretary en prime ministerial envoy for persecuted Christians, BosNewsLife learned. Tristan Azbej said he "was among the first of the invited guests" to meet the pontiff. Azbej said he briefed the pope about Hungarian support for persecuted Christians in Iraq, adding that Francis "blessed Hungary's mission". Hungary is one of the first countries with a government agency for persecuted Christians.
After Mosul, Pope Francis was in Qaraqosh, an ancient Christian town that Islamic State forces had overrun. He met members of the local community at the Church of the Immaculate Conception. He celebrated an open-air Mass at the Franso Hariri Stadium in Erbil before heading back to Baghdad, the capital.
Authorities and organizers said that due to COVID-19 restrictions, attendance was limited to 10,000 people.
Francis, the first pope to visit Iraq, began his three-day trip on Friday despite concerns about the coronavirus pandemic. Just days ahead of the trip, the Vatican's ambassador to Iraq Mitja Leskovar tested positive for COVID-19, officials confirmed.
COVID CONCERNS
But the pope, who, like his retired predecessor Benedict has been vaccinated against COVID-19 despite concerns about possible side effects, made clear he wanted to go though it would mean crowds were limited.
Iraq says it is currently battling renewed violence and a second deadly wave of coronavirus infections, which has prompted overnight curfews and full weekend lockdowns.
Besides Christians, Pope Francis also met with the reclusive Grand Ayatollah Ali al-Sistani at the 90-year-old Muslim leader's modest home in Najaf. Sistani is one of the most important figures in Shiite Islam and wields considerable influence in Iraq and beyond.
It was not immediately clear when and if that dialogue will encourage Christians to remain and those who left to return to Iraq. Iraqi Christians made clear they hope Francis' message of coexistence will help ease their lives in a nation where they find themselves frequently under attack from Shiite militia members.
The Christian presence in Iraq dates to the first centuries of the faith, but with a few hundred thousand Christians remaining, leaders are concerned about the future.