By Stefan J. Bos, Chief International Correspondent BosNewsLife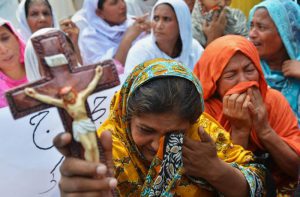 ISLAMABAD, PAKISTAN (BosNewsLife)– Rights activists fear that Pakistani law enforcement authorities will make the death penalty the only punishment for blasphemy against Islam.
They said Thursday just Pakistan's Peshawar High Court asked the country's attorney general and provincial advocate general "to consider" removing non-lethal punishments.
The court referred to a petition clarifying that Pakistan's Islamic court, the Federal Shariat Court, already ruled that life imprisonment went "against Islam's injunctions."
Supporters of the death penalty said all existing laws should be in line with Islam "as laid down in the Holy Quran and Sunnah, under Article 227 of the Constitution."
The developments further complicated the legal wrangling of minority Christians seeking to overturn their death sentence for blasphemy in the Islamic nation.
Last month a court in Pakistan indefinitely delayed an appeal hearing for a Christian couple on death row since 2014 after being convicted of blasphemy.
COUPLE SENTENCED
Shagufta Kausar and Shafqat Emmanuel, jailed since 2013, were sentenced to death under Pakistan's controversial blasphemy laws for allegedly sending "blasphemous texts" that insulted the prophet Muhammad to a cleric.
The texts were sent via a mobile phone sim card that was registered in Kausar's name. However, the couple denies the allegations and believes that the sim was obtained by someone using a copy of her national identity card.
Separately a Christian young man faces execution by hanging death after a Pakistani court sentenced him to death this month for allegedly sending blasphemous text messages about Islam's Prophet Muhammad.
The Lahore High Court changed the life imprisonment of 36-year-old Sajjad Masih Gill, a Seventh-day Adventist Church member, from life imprisonment into capital punishment, trial observers confirmed.
Several other Christians and others accused of blasphemy gave a similar plight. Pakistan's Centre for Legal Aid, Assistance, and Settlement (CLAAS) told BosNewsLife that it hopes courts will not impose the death penalty.
"This is not the time to relive the issue of whether the only punishment for those who commit blasphemy should be the death sentence," said CLAAS Director Nasir Saeed. "This is the time to think about how to stop the misuse of the blasphemy law, as we see every day how this law is being misused," Saeed added.
MORE ABUSES
He said since the blasphemy legislation was amended in 1986, individuals and religious groups misused it to reach goals or settle personal grudges, mainly against religious minorities.
In 1992 the first "blasphemy murder" killed Christian Punjabi poet and teacher Naimat Ahmar, Christians said. After a few years, thousands of Muslims attacked the Christian village, Shanti Nagar, calling them blasphemers, according to CLAAS investigators.
"During the attack, 785 houses and four churches were destroyed, while 2,500 Christians were also forced to flee their village, CLAAS said in a briefing on the situation. "And the incidents continued after that with the attacks on [the areas of] Gojra and Korian, Sangla hill and Joseph colony [in] Lahore."
"Dozens of people have been extra-judicially killed in recent years. [Those killed include] the governor of Punjab province, Salman Taseer, [Pakistan's] only Christian minister Shahbaz Bhatti and Shama and Shahzad, who were burnt alive in the brick kiln factor," CLAAS added.
"Several dozen innocent people are languishing in the country's prisons and it takes them years and years to get justice and prove themselves innocent. "
CLAAS noted that governments so far failed to keep promises to end the misuse or effectively introduce 10 years imprisonment for a false accusation. "Instead voices against the misuse of the blasphemy law have been forced into silence."