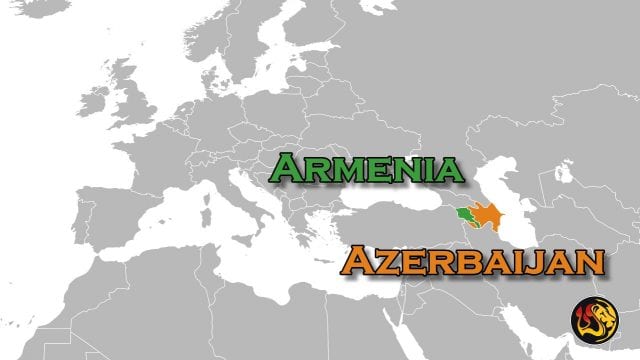 By Stefan J. Bos, Chief International Correspondent BosNewsLife
YEREVAN, ARMENIA (BosNewsLife)– Armenia's leading cultural authority accuses neighboring Azerbaijan of demolishing an Armenian Church in a disputed area.
The Armenian National Commission for the United Nations Educational, Scientific and Cultural Organisation (UNESCO) said forces of the Muslim-majority nation destroyed the Armenian Church in the town of Mekhakavan, which fell under Azerbaijan's control after a war last year.
We "Strongly condemn yet another act of cultural crime by Azerbaijan. As [British broadcaster] BBC found out the Armenian church disappeared after Azerbaijani got control over it," said the Armenian National Commission on social networking site Twitter. It noted that before Azeri authorities demolished the Church, Azeri troops vandalized it and posted videos online.
"Armenian monuments of Artsakh under Azerbaijani occupation are vandalized and destroyed in ISIS-style," the Armenian National Commission added about terror group Islamic State.
A BBC network investigation by correspondent Jonah Fisher suggested that Azerbaijan destroyed the Armenian Church following the war over the disputed enclave Nagorno-Karabakh. The report included a video which showed Azerbaijani soldiers, one standing on top of the Church, shouting "Allahu Akbar" of "Allah is Greatest."
CHURCH DISAPPEARANCE
Fisher traveled to the region to investigate the "disappearance" of the Church after footage posted online clearly showed the Church was intact when Azeri forces captured the town. The correspondent visited the exact location of the Church, where not a single trace of it is left. When he pressured police about what happened to the building, an Azeri policeman claimed the Church was destroyed during the war.
However, Armenia and rights investigators say videos reveal that the area came under Azerbaijan's control when the Church was still intact.
Armenia says the international community should prevent "the Azerbaijani policy of eradicating Armenian cultural and spiritual legacy" in Nagorno-Karabakh. The developments came a week after the reported alleged destruction of a 200-year-old church in the city of Shushi, which had also come under Azerbaijani control.
Armenian authorities, the Surb Hovhannes Mkrtich Church was destroyed by Azeri forces. Advancing Azeri forces were also blamed for launching an attack on Ghazanchetsots Cathedral in Shushi.
Christians said that during a visit to Nagorno-Karabakh this month, Azerbaijan's President Ilham Aliyev ordered removing medieval Armenian inscriptions from churches and other monuments. He claimed that the inscriptions were not genuine. "All these inscriptions are fake – they were written later," Aliyev reportedly said. "They have created a false history for themselves in our ancient lands."
HISTORIC HOMELAND
Critics disagree. "Nagorno-Karabakh, also known as mountainous Karabakh, is part of the historic homeland of the Armenian people. They became the first Christian nation around 301 AD," said advocacy group Barnabas Fund. "And the region still contains many ancient churches and monasteries. Karabakh was placed within Azerbaijan by the [then Soviet Union or] USSR in 1923."
Azerbaijan has been accused of committing war crimes against both military prisoners of war and civilian detainees during and after the 2020 conflict. However, Azerbaijan says Armenia also committed war crimes.
Fighting erupted between Azerbaijan and ethnic Armenian forces on September 27. It ended on November 10 when a Russian-brokered peace deal introduced a tense ceasefire. Thousands were killed in the most bloody fighting in the region since the early 1990s.
The conflict saw Azerbaijan reclaim control over large parts of Nagorno-Karabakh and surrounding areas that Armenian forces held for more than a quarter-century.
Amid the turmoil, Armenia's embattled prime minister has confirmed that he will step down from the post in April to allow an early parliamentary election to take place. Nikol Pashinyan faced months of protests calling for his removal following Armenia's defeat in last year's war with Azerbaijan. In a move to end the political crisis, Pashinyan two weeks ago announced that an early election would be held on June 20.