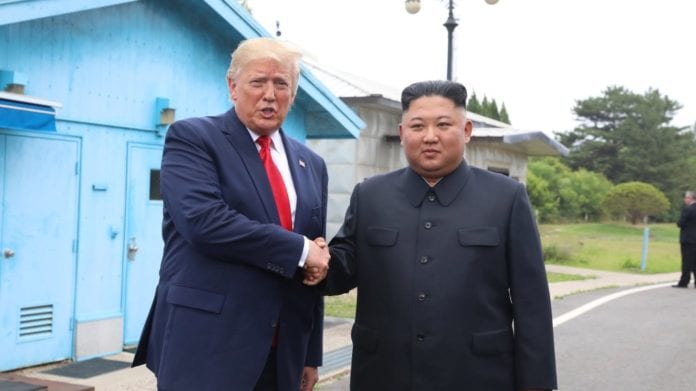 By Stefan J. Bos, Chief International Correspondent BosNewsLife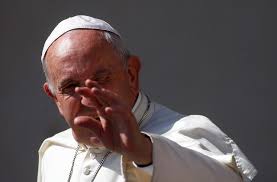 VATICAN CITY/PYONGYANG/SEOUL (BosNewsLife)– Pope Francis has expressed hope that a historic meeting between U.S. President Donald Trump and North Korea's ruler Kim Jong-un will lead to peace, on the Korean Peninsula and elsewhere in the world. But it was unclear if the two leaders had talked about abuses, including the torture and killings of Christians and other prisoners in North Korean camps.
However, the Trump-Kim meeting in the heavily fortified demilitarised zone dividing the two Koreas was "a good example of the 'culture of encounter,' " said Pope Francis following his recitation of the Angelus noon prayer from the window of his studio.
He spoke about the June 30 meeting after President Trump crossed briefly into North Korea, becoming the first sitting U.S. President to do so. "Good to see you again. I never expected to meet you at this place," a smiley Kim told Trump through an interpreter in an encounter live televised around the world. "Big moment," Trump added, "tremendous progress."
Trump also said in his made-for-tv-moment that "Stepping across that line was a great honor." Kim and Trump then had an hour-long conversation in a building known as "Freedom House," on the South Korean side of the border. They spoke amid tensions between Western media and North Korean security officials.
White House Press Secretary Stephanie Grisham was injured in a scuffle with North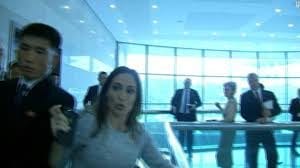 Korean security as she tried to help U.S. media to get into the meeting room where President Trump and North Korean leader Kim were talking in private. South Korean president, Moon Jae-in also briefly attended those talks.
RIGHTS ABUSES
Doubts remained whether Trump, who appeared not aware of the scuffle, had raised mounting international concerns with Kim about North Korea's notorious prison and labor camps or other reported rights abuses.
Among the many prisoners seen as dangerous by the North Korean regime and its ideology are some 70,000 or more Christians, according to rights investigators. The believers are held "in horrific labor camps" in North Korea, for merely "daring to believe in Jesus," said advocacy and aid group Open Doors.
Rights investigators and survivors say prisoners are starved, forced to work, tortured and raped — and face reproductive rights violations through forced abortions and infanticide. Several detainees are known to have been executed — sometimes in public.
A Christian identified as Hea Woo, which is not her real name, recalled in recently published remarks that when she arrived at a prison camp, there was a sign saying 'Do not try to escape, you shall be killed.'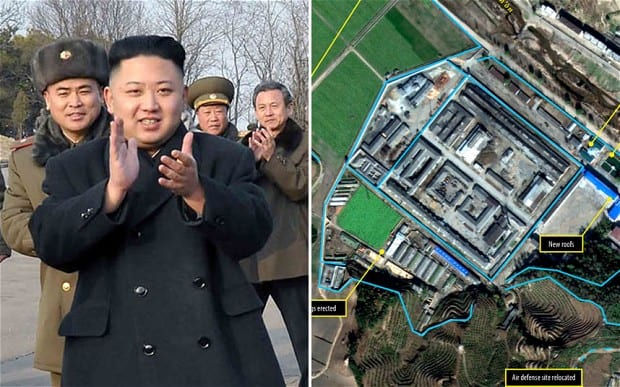 She said in a statement distributed by Open Doors that "guards were merciless. They kicked me and beat me with sticks. Christians are sometimes killed or locked up for the rest of their lives in concentration camps."
MANY KILLED
Hundreds of thousands of political prisoners have died in the camps over the past 50 years, a United Nations report found. "Constantly, people were dying. Death was a part of our daily life," confirmed the Christian woman who has since fled the camp.
"The bodies were usually burned, and the guards scattered the ashes on the path. Every day, we walked down that path, and I always thought, one day, the other prisoners will be walking over me,"  she recalled.
But Hea Woo also said: "God helped me to survive. Even more: He gave me a desire to evangelize among the other prisoners." And she remembered in a statement cited by Open Doors: "He showed me who I should approach. God used me to lead five people to faith. We met together out of the view of the guards. Often that was in the toilet. There we held a short service. I taught them Bible verses and some songs, which we sang almost inaudibly."
But when talking to reporters, President Trump did not mention the plight of North Korean Christians like Hea Woo or other rights abuses. He focused instead on the resumption of talks on North Korea's nuclear weapons program.
In a previous meeting that took place last year in Singapore, Trump and Kim committed to the "denuclearisation" of the Korean Peninsula, without going into specific details. But a summit earlier this year broke down without making progress.
NO SPEED
Trump said he and Kim were "not looking for speed. We're looking to get it right." He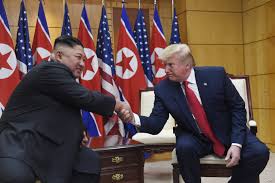 added: "We are going to have teams, they are going to meet over the next weeks, they are going to start a process, and we will see what happens."
The president also stressed that sanctions would remain in place, but suggested that may change pending North Korean moves towards denuclearisation. "At some point during the negotiation, things can happen," he explained.
Kim saw the one-hour meeting as a sign of improving ties between his isolated nation and the United States. "I think meeting here, two countries that have a hostile past, we are showcasing to the world that we have a new present and we have a positive meeting going forward."
At the Vatican, Pope Francis made clear to thousands of pilgrims that despite questions remaining, he welcomed the Trump-Kim meeting. And the leader of roughly one billion Catholics said he prayed that "such a significant gesture might constitute a further step along the path of peace, not only on that [Korean] Peninsula but for the whole world."
In recent days, the Korean Catholic Church prayed for peace on the divided Peninsula as it commemorated the 69th anniversary of the outbreak of the Korean War. South Korea's bishops and an estimated 20,000 Catholics participated at a special memorial Mass on June 25 at Peace World Park in Imjingak, near the demilitarized zone dividing North and South Korea.
(With additional reporting by Christopher Wells and Robin Gomes at the Vatican and reporting from North and South Korea).