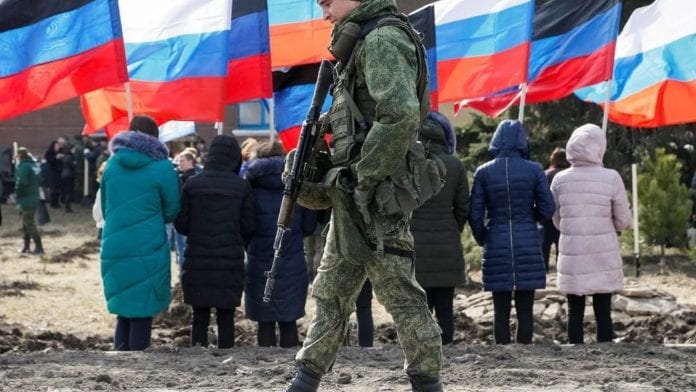 By BosNewsLife News Center in Budapest with additional reporting by BosNewsLife's Stefan J. Bos
KIEV/BUDAPEST (BosNewsLife)– Authorities in a critical part of war-torn eastern Ukraine have banned worship meetings of all Protestants and several other churches and faith communities, activists told BosNewsLife.
Religious rights group Forum 18 said the unrecognized Luhansk People's Republic also prevented church leaders from outside the territory to visit their fellow believers. "Officials have barred access by the Greek Catholic bishop and a Greek Catholic priest, the bishop of the Orthodox Church of Ukraine, and many Protestant leaders."
Those organizing unsanctioned worship services or other public meetings face high fines, forced community work and even short prison terms, according to activists familiar with the situation. The influential Russian Orthodox Church is believed to be the main religion of pro-Russian separatists whose leadership shows little tolerance towards other faith groups, activists suggested.
"Courts continue to punish individuals who lead worship meetings in defiance
of official bans," Forum 18 said. "Of the six known cases in 2019 – all of them from
various Baptist denominations – two have been fined about one month's average wages each. One was given a 20-hour community work order, and the other three were left with no punishment. The most recent known fine was of Pastor Pyotr Tatarenko on October 7," the group explained.
Communities such as Jehovah's Witnesses and Council of Churches Baptists, who refuse to seek registration on principle grounds, are also regarded as "illegal."
NOT MEETING
Other congregations, including the Pentecostal Union and the Baptist Union, say they cannot meet for worship. "Our churches lie empty," a Protestant Christian was quoted as saying adding that "Church members meet in homes, but with no more than four people."
Local Christians say the situation in the separatist parts of eastern Ukraine reminds them of the era when Ukraine was part of the Soviet Union when devoted Christianity was discouraged by the Communist leadership.
Pro-Russian separatists seized parts of eastern Ukraine's Luhansk Region in March 2014 and proclaimed the Luhansk People's Republic.
Russian-backed rebels also took parts of eastern Ukraine's Donetsk Region in April 2014 and soon called it the Donetsk People's Republic. Heavy fighting ensued between Ukrainian government forces and pro-Russian separatists. The ongoing conflict has killed more than 13,000 people, according to United Nations sources.
Local authorities have reportedly defended their religious measures saying faith communities that have not undergone registration are illegal after special decrees were approved by regional legislators last year. However, Baptist Union congregations, which applied for registration before the deadline, say they were all rejected by authorities.
Additionally, it added to difficulties for those wanting to visit the faithfull. "The one Catholic priest still allowed access can stay for a maximum of three months, with the next three months out of the territory. The months when he is denied access, Mass has to be relayed to the congregation over the internet," Forum 18 said.
RECEIVING COMMUNION
These measures deprive churchgoers "of the opportunity to receive Communion. Receiving Communion is for Catholics an integral part of participating in Mass," the group added in a statement obtained by BosNewsLife.
Pro-Russian separatists prosecutors have also launched an "extremism" investigation against a priest in Luhansk of the Orthodox Church of Ukraine, who is in his seventies, according to sources familiar with the situation. For five months, he was reportedly banned from leaving the territory.
"Officials have brought prosecutions against at least six local religious leaders" in 2019 for leading meetings for worship without permission, Forum 18 said. "Of the known cases, two religious leaders were fined, and one was given a community work order,
while the other three avoided punishment. All the cases known to Forum 18 involve Protestants."
Activists cited an incident in February when ten masked and armed fighters allegedly raided a worship meeting of Path of Salvation independent Baptist church in the city of Luhansk. "They claim to have found religious literature which church members insist they planted." At a final hearing in March, a Luhansk court acquitted 82-year-old Pastor Anatoly Tolstenko on charges of "illegal worship" and storing religious literature which the authorities regarded as "extremist."
After a police raid in March on the Sunday meeting for worship of a Protestant community in the town of Sverdlovsk or Dovzhansk in Ukrainian, officials charged
Pastor Nikolai Muratov, who is in his seventies. Eventually, he wasn't punished.
MORE PROSECUTIONS 
But other pastors weren't so lucky. After security forces interrupted the April 21 Sunday meeting of the Council of Churches Baptist congregation in the town of Krasnodon or Sorokyne in Ukrainian, Pastor Vladimir Rytikov was sentenced to 20 hours of community work.
He appealed his conviction, but this week it was rejected by the
Luhansk Supreme Court, which also confirmed the punishment. Church members accompanied Pastor Rytikov to the court to give their support, praying with him before and after the hearing, and during the break in the proceedings, trial observers said.
"I explained to the court that I consider myself not guilty," Pastor Rytikov was quoted as saying. He told the court that his congregation had been meeting at the same place since 1961. "Entry to our services is free to anyone who wishes, and the authorities know this."
After Pastor Rytikov told the Supreme Court that he was being punished for his faith, Judge Tatyana Minskaya reportedly responded: "We are trying you not for
your faith but for breaking the law."
Another pastor, Pyotr Nagorny of a Baptist Union congregation in the village of Slavyanoserbsk, was punished for visiting a sick member of his congregation with several other church members. Neighbors reported them to the police, well-informed sources said.
NEW FINE 
"Slavyanoserbsk District Court found him guilty under the Administrative Code Article 20.2, Part 2 and fined him 5,000 Russian Roubles. This represents more than three weeks' average local wage for those in formal work," Forum 18 explained.
Under pressure of a higher court, the case was eventually canceled.
Officials also brought charges earlier this year against Vladimir Devyanin, leader
of a Baptist Union congregation in the town of Kirovsk, or Holubivka in Ukrainian.
"Kirovsk Town Court found him guilty under Administrative
Code Article 20.2, Part 2, and fined him 7,000 Russian Roubles. This represents more than a month's average local wage for those in formal work," Forum 18 noted.
Pastor Devyanin appealed against his conviction and fine, but a Luhansk Supreme Court rejected his appeal in August, court officials reportedly told Forum 18 this week.
POLICE RAID
Fellow Pastor Pyotr Tatarenko, who leads the Krasnodon Council of Churches Baptist congregation, also faced charges after a police raid in August on A Sunday worship gathering.
This month a local court fined him 7,000 Russian Roubles which, "represents more than a month's average local wage for those in formal work," Forum 18 said.
Pastor Tatarenko has appealed against his conviction and fine to Luhansk Supreme Court. No date has yet was set for a hearing.
Amid the tensions, Christians and church leaders say they feel increasingly isolated.
Ukrainian President Volodymyr Zelenskiy is facing an uphill battle selling a peace deal he approved with Russia and pro-Moscow separatists to end the conflict. It would see two breakaway republics become self-governing, although still part of Ukraine.
The landmark deal, which also involves withdrawing forces from the front lines, has been welcomed by the Kremlin. But Ukrainian nationalists organizing protests oppose the agreement.