By Stefan J. Bos, Chief International Correspondent BosNewsLife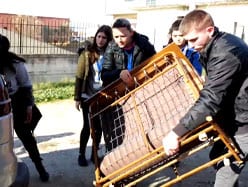 BUDAPEST/TIRANA (BosNewsLife)– Aid workers say evangelical churches are among those providing aid to thousands of Albanians who have become homeless, including hundreds of Christians, after Albania's deadliest earthquakes in decades.
The main 6.4-magnitude quake on November 26 killed at least 51 people and injured more than 3,000 others, officials said.
However, "Amid the early recovery work, the second earthquake struck on Thursday at 8.33 p.m. local time," noted Barnabas Fund, a Christian aid and advocacy group. "Many people are sleeping in tents and cars, or just in the open air. Either their homes have collapsed, or the buildings are too unsafe to live in," added Barnabas Fund in a statement to BosNewsLife.
"At least twelve Christian families have had their homes destroyed, and at least three church buildings are damaged and need renovation," the group said. Worst-hit areas include the port city of Durres, a popular beach vacation area for Albanians, some 30 kilometers (20 miles) west of Tirana, the capital.
The nearby northern town of Thumane was also hit, and many schools remain closed, authorities said.
Albania's prime minister announced Wednesday, December 4, that he was pleased with the international support he secured at a summit of the NATO military alliance. Edi Rama said he had discussed his country's needs at this week's gathering with U.S. President Donald Trump and other leaders from Europe and Canada.
POSITIVE REACTIONS
Rama told reporters that he received a positive reaction to his plan to hold an international donors' conference on the tragedy that shook one of Europe's poorest nations.
The European Union and the United Nations are coordinating international efforts, including those from the United States, to assist Albania after the earthquake that affected more than half of the country's 2.8 million population. Ursula von der Leyen, the new president of the European Commission, said the EU's executive branch pledged 15 million euros to Albania and that it will help organize the proposed donors' conference.
But while politicians prepare the conference, Barnabas Fund said it is already closely cooperating with the Albanian Evangelical Alliance to provide aid to Albania's minority Christians and other residents. It explained that the Alliance is coordinating churches across the country to offer hot meals, tents, blankets, transport, and other care for the "traumatized" earthquake victims.
"These people are really big time in need," said Pastor Gentjan, an evangelical Albanian pastor who said he mobilized his church members to help earthquake victims in their country. His last name wasn't published amid some security concerns in several parts of the country where most people are Muslims.
Footage obtained by BosNewsLife showed Christians sometimes interrupting their work between the rubble by holding hands and praying for the troubled nation. Barnabas Fund told BosNewsLife that for Albania, "the fourth poorest country in Europe, this natural disaster comes at the worst possible time, just as winter is setting in."
MORE PRESSURE  
The quake increased pressure on Christian converts in the heavily Muslim nation, which seeks EU membership, suggested Christian aid workers.  "Christians who have left Islam to follow Christ can face much opposition – even violence – from their Muslim relatives, and radical Islam is growing in the country," Barnabas Fund told BosNewsLife.
Ironically, atheism is also "actively propagated," after decades of Communism when the country was one of the world's most isolated nations, Barnabas Fund explained. "Albania was dominated by Islam when the communists came to power in 1945. In 1967, all religion was banned and it became the world's first atheist state, but in 1991 the communist regime itself came to an end."
That created new opportunities for radical Islam to spread. But despite Islam and atheism remaining strong, "the Church in Albania is also growing, with many new congregations of evangelicals starting in the last two decades," Barnabas Fund said.
It has urged its supporters to help churches with gifts and prayers.
Listen to an earlier version of this news with Stefan J. Bos via Vatican News