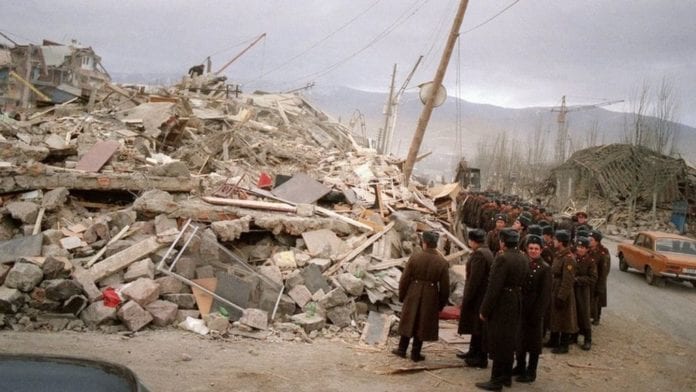 By BosNewsLife News Center with reporting by BosNewsLife's Stefan J. Bos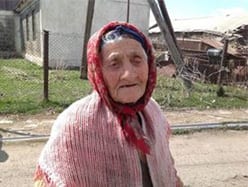 YEREVAN, ARMENIA (BosNewsLife)– Aid workers say a lack of firewood used for heating threatens the health of thousands of Armenian Christians who still live in temporary shelters after surviving a devastating earthquake in 1988.
"Winters in Armenia stretch from November until late May, and temperatures can drop to -33° Celsius (91.40 Fahrenheit)," said the Christian aid group Barnabas Fund. "Making matters worse is that firewood is scarce in Armenia this winter, as the hot, dry summer of 2019 resulted in ferocious forest fires, which destroyed much of the country's sparse forests," it added.
The group noted that more than three decades after the country's devastating earthquake, many Armenian Christians "have since lived in very basic temporary accommodation" that gives little protection.
Measuring a magnitude of 7.0 on the Richter scale, the quake struck northern Armenia on December 7, 1988, killing more than 25,000 people and injuring hundreds of thousands more.
Hundreds of thousands of people were left homeless as high-rise apartment blocks collapsed like dominoes.
Despite the difficulties, Christian survivors in the region say they main faithfull to their faith in Christ. "I have no children, and God is my only relative. I entrust all my hopes to His hands because He never leaves me alone," said 92-year-old Arpik, a woman who apparently uses one name. "Through the Church sisters and brothers, I always receive God's support. My God is alive, and that means I live too," said Arpik in remarks distributed by Barnabas Fund.
LOSING HOME
The Christian woman said she lost her home in the 1988 Armenia earthquake and has lived alone in a shelter known as a "domik" ever since. The domiks – supposed to be just temporary accommodation – are little more than scrap metal shacks with no insulation or protection from the bitter cold of an Armenian winter.
"Coping with both poverty and this intense cold is the stark everyday reality of Christians in the high-altitude Shirak region as they struggle to survive during this brutal season," Barnabas Fund told BosNewsLife.
It said it had launched an appeal to raise support for the "neediest Christians" such as Arpik. "It will cost about $90 per household to keep a penniless Armenian Christian family warm this winter. That pays for four cubic meters of wood, or the gas and electricity."
Barnabas Fund said it works closely with local churches to provide aid to needy believers. It asked supporters to "Show the warmth of your love
for fellow Christians in Armenia with a gift of winter warmth."
Armenia, which broke away from the Soviet Union in 1991, has one of the region's oldest Christian civilizations. Humanitarian hardship experienced by Armenians adds to a long list of suffering throughout their bloodstained history, Barnabas Fund recalled.
ARMENIAN GENOCIDE
The group said that over 1.5 million Armenian Christians are believed to have been killed by forces of the Ottoman Empire, which was in present-day Turkey.
They died in the prolonged "Armenian Genocide of a century ago," which finished only a few years before Christians such as Arpik were born, Barnabas Fund said. "They died because they were Christians and refused to convert to Islam."
The U.S. House of Representatives formally recognized the Armenian genocide in October and called for "education" about the United States' humanitarian response.
But Turkish Foreign Minister Mevlut Cavusoglu immediately condemned the vote, calling it a "shameful decision of those exploiting history in politics (it is) null and void for our government and people."
He said the resolution was Congress' "revenge" for Turkey's incursion into northern Syria. Turkey denies Armenians were singled out and died in a genocide. It says many Armenians living in the Ottoman Empire were killed "in clashes" with Ottoman forces during World War One.
France was the first major European country to make denying the Armenian Genocide a crime in 2001, followed by several other countries. It isn't the only conflict faced by  Armenia's three million people: Since independence, the former Soviet republic also drew into a bloody battle with neighbor Azerbaijan over the mainly Armenian Nagorno-Karabakh region.