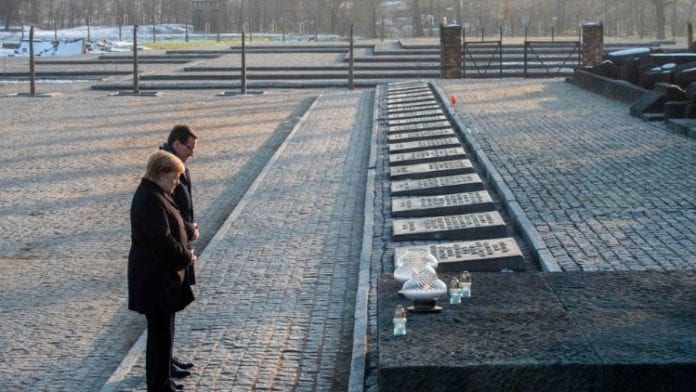 By Stefan J. Bos, Chief International Correspondent BosNewsLife
WARSAW/BUDAPEST (
BosNewsLife
)– German Chancellor Angela Merkel has visited the former German Nazi death camp Auschwitz amid concerns about rising antisemitism in Germany and Europe and brought with here a massive.
She carefully walked through the gates of the former German Nazi death camp Auschwitz-Birkenau with the notorious words "Arbeit Macht Frei."
That was a cynical phrase that meant "work will set you free." The truth was that inmates were subjected to either immediate execution, painful scientific experiments, or forced labor. This was the first time Merkel visited the site in her 14 years as Chancellor.
Accompanied by the Polish prime minister Mateusz Morawiecki she also paid tribute to the victims at what is known as the death wall where many were executed. Merkel and Morawiecki bowed their heads before two wreaths bearing their nations' colors.
The Chancellor appeared visibly emotional. At one point, she nearly fell while leaving the death wall of what was one of the world's most horrific areas. More than 1.1 million people, most of them Jews, were killed here — many of them in the notorious gas chambers.
RISING ANTISEMITISM
Speaking at a gathering that included former Auschwitz inmates, Merkel said she visited the site at a time of mounting concerns in Germany and other European nations about rising anti-Semitism
Chancellor Merkel said, "We are experiencing worrisome racism, increasing intolerance and a wave of racist hate crimes," she says.
We are witnessing and experiencing an attack on the fundamental values of liberal democracy. And a very dangerous historical
revisionism that serves a hostility that is directed against specific groups."
Her stay lasting several hours also included a visit to a crematorium and the conservation laboratory, where old leather shoes were laid
out on a table, and putting of candles at Birkenau, the part of the vast complex where Jews were subjected to mass murder in gas chambers.
Merkel's visit came ahead of the 75th anniversary of the liberation by Soviet troops of what was one of the world's most horrific sites.
Message to the world
She said the remnants of Auschwitz send a strong message to the world today. "Auschwitz, more than any other site, reminds us and urges us and places us under the obligation every one of us to be vigilant and to preserve humanity and to protect our neighbors' dignity."
Merkel also brought a donation of 60 million euros. The money will go to a fund to conserve the physical remnants of the site — The barracks, watchtowers, and personal items like shoes and suitcases of those killed.
That brings the total German donation to 120 million euros and makes Germany by far the most generous of 38 countries that have contributed to the site. Since becoming Chancellor in 2005, Merkel has paid her respects at other Nazi concentration camps, and she has been five times to Yad Vashem, Israel's Holocaust museum and memorial.
Still, Poland's Foreign Ministry called her to visit "historic," referring to the unique status Auschwitz has in the world's collective memory.
The ministry also noted that it was just the third visit of an incumbent head of a German government.
Most of the victims were Jews transported from across Europe to be killed in gas chambers. But tens of thousands of others were killed there too, including Poles, Soviet prisoners of war and Roma, or Gypsies. The Soviet army liberated the camp on January 27, 1945.