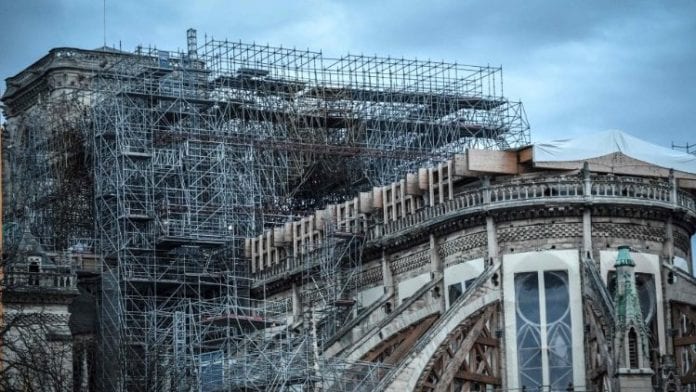 Listen to this BosNewsLife report via Vatican News:
By Stefan J. Bos, Chief International Correspondent BosNewsLife

PARIS, FRANCE (BosNewsLife)– The Notre Dame Cathedral, one of the most famed religious landmarks in the French capital, was unable to host Christmas Mass for the first time in centuries because of a massive fire earlier this year. And there are fears the Paris landmark can not be saved. But the faithful did not give up hope this Christmas.

Eight months after the accidental blaze consumed the medieval monument's roof and collapsed its spire, workers are trying to rebuild the Notre Dame Cathedral. Officials say the structure is too fragile to let visitors inside. And there's still a risk of poisoning from the tons of lead dust released with the flames.
In April, huge crowds watched in horror as flames spread across the Notre Dame Cathedral.
That's also why for the first time since the French Revolution, the famed Paris landmark remained silent this Christmas. The Notre Dame Cathedral did not host its Christmas Mass, because it is to deeply damaged by this year's fire.
Patrick Chauvet, the Rector of Notre Dame Cathedral, is sad. In Paris he has admitted there is only a 50 percent chance the 12-century fire-ravaged Cathedral can be restored. He said he fears more potential distress after the church's support scaffolding is removed — likely in 2021 — and officials learn whether the structure's surviving vaults to keep the Gothic monument standing.
NO CHRISTMAS MASS
It's the first time in his lifetime that the Cathedral isn't open to the public this Christmas. "It is true that the Cathedral has always celebrated Christmas. Since the Revolution, the Cathedral has held a Mass, even during World War Two," he recalled.
More recently, soldiers guarded its Christmas Mass in 2015, weeks after France's deadliest-ever terror attacks. But now its exiled clergy, choir, and the congregation celebrated the Birth of Christ in another Gothic church next to the Louvre Museum.
Henri Chalet, the director of the famed Notre Dame Choir, was there. "There is a lot of sadness because we won't be in Norte Dame. But there is also an enormous amount of hope because it is only for a period of time," he said.
Eduarda Barea, who grew up in Brazil and has lived in Paris for three years, is convinced that the Cathedral and the Faith will rise from the ashes. "For France, this is like a symbol. But I think at the same time people are trying to renovate and give everything to rebuild it. And it is maybe an opportunity to go to other churches and to rebuild your faith," she stressed.
Already one billion euros have been raised or pledged for the reconstruction. But for now this holiday season, much of the Cathedral is shielded by scaffolding instead of the huge Christmas tree that usually graces its grounds.