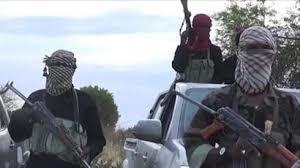 With reporting by Nathan Morley
ABUJA, NIGERIA (BosNewsLife)– Militants of the Islamic State group (IS) have released a video purportedly showing the murder of 11 Christians in Nigeria's Borno State on Christmas Day.
In the gruesome video, one man is shot before the other ten beheaded. A masked man in the almost one-minute video claimed the killings were part of their recently declared campaign to avenge the deaths of IS leader Abu Bakr al-Baghdadi and his spokesman.
Al-Baghdadi committed suicide in October to avoid capture during a raid by the United States special forces on his hideout in the province of Idlib, northwestern Syria.
In response, IS claimed several attacks in various countries this month alone.
The latest short video was released on December 26th and timed to coincide with Christmas celebrations. It was filmed in an unidentified location.
TERROR CAMPAIGN
No details are known about the victims, who were all male. But IS said they were kidnapped over recent weeks in Nigeria's northeastern Borno State.
One faction of Nigeria's Islamist Boko Haram terrorist organization now fights under the banner of the Islamic State of West Africa Province or ISWAP.
Last year, ISWAP killed two midwives it had previously taken hostage.
The United Nations Secretary-General, Antonio Guterres, has expressed his deepest condolences to the families of the victims.
Islamic State has been linked to the executions of many Christians in recent years.