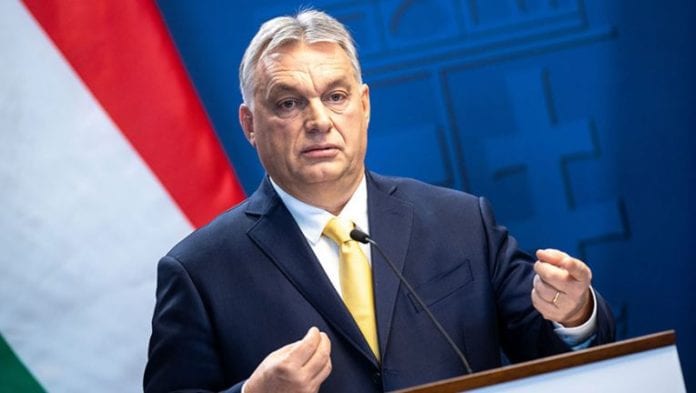 By Stefan J. Bos, Chief International Correspondent BosNewsLife reporting from Budapest, Hungary
BUDAPEST, HUNGARY (BosNewsLife)– Hungary's controversial prime minister claims his government is "secretly" helping a growing number of Christian asylum seekers and other Christians seeking refuge from persecution. Viktor Orbán admitted to BosNewsLife he was aware of Christians held in Hungary's notorious container camps at its border with Serbia.
He acknowledged that they include Iranian artist Abouzar Soltani and his 10-year-old son Armin who have been stuck in the Transit Zone in Hungary for more than a year. They are forced to live in blue containers after asking for asylum.
Abouzar Soltani faced expulsion back to Iran, though he could be executed there for abandoning Islam. The case has overshadowed Hungary's proclaimed goal to help persecuted Christians around the world. But in a significant development, Prime Minister Orbán suggested his government would either grant the father and his son asylum or bring them to safety elsewhere. "On that kind of case, as you have mentioned and similar ones, we are very active," he told BosNewsLife during a lengthy news conference on Thursday, January 9.
However, he stressed that his right-wing government deals with Christian asylum seekers "secretly." He said Hungary's secretive diplomatic efforts had reached some positive results. "But we don't put it to the shop window. Because you know the kind of deliberation of persecuted Christians one by one is rather a diplomatic action that requires modesty and secrecy. But be sure we are acting on that,"
Orbán added.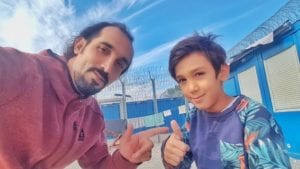 Hungarian and U.S. officials have said help was needed as thousands of Christians are killed annually for their faith. Orbán regrets that some rescued Christians who faced a crisis publicly spoke about Hungary's support for them. "Sometimes, persons who were delivered out of their hostages mentioned that Hungary played a role. I am not very much happy with that," Orbán complained. "Because that limits our capacity for the future. But some in recent years mentioned that we somehow are behind these diplomatic actions."
THOUSANDS SUFFER
His government said it spent $40 million to support some 50,000 people, many of them Christians, in crisis regions. Orbán made it clear that he prefers people to stay in their nations rather than coming to Hungary.
However, he defended his perceived cozy relationship with autocratic presidents. They range from leaders of Turkey to Central Asian nations where devoted Christians face persecution for their faith in Christ. "If the foreign policy of any country in the world was based on that we cooperate only with those countries who are in Western understanding democracies, two-third of the world would be out of our foreign policy reach," Orbán countered.
"I think it is a serious question," he told BosNewsLife.
Orbán stressed that "pursuing a foreign policy that is based solely on values limits our ability to find a compromise." He said, "There are three options in foreign policy: isolation, compromise or war. The best choice among those is to compromise. I consider Central Asia a critical region for the coming few decades."
He cautioned that this cooperation doesn't mean Hungary will give up its Christian roots. And Orbán cited protecting Hungary's Christian heritage as among the reasons why he remains in general as opposed to migrants entering his nation as most of them are Muslims.
TURKEY TROUBLES
"In 2019, 450 thousand crossed the border illegally into Turkey," marking a 70 percent increase compared to the previous year, he claimed. "As a result, the number of migrants arriving in Greece nearly doubled, and daily arrests at the Hungarian border now exceed one hundred. That's why we must increase the number of soldiers and police working on the Serbian-Hungarian border."
He said Hungary expanded police cooperation with North Macedonia and Serbia "to repel and capture illegal entrants."
Orbán accused George Soros, the Hungarian-born US philanthropist, of supporting pro-
migration groups. However, "We don't have a Soros phobia," he said. "We are not fixated. But we confront a powerful group that is directed by George Soros. Their goal is to influence the politics of the EU," the prime minister added.
"I consider, George Soros a talented, Hungarian man. That's exactly the problem. I'm very sorry that he is not with us but against us," Orbán said.
It remained unclear whether tensions between the West and Iran will make it easier for migrants fleeing that strict Islamic nation to receive asylum in heavily Catholic Hungary.
ROCKET ATTACKS
Orbán said that the conflict there also impacted his country. "Recent rocket attacks" by Iranian forces against US-led forces in Iraq also targeted Hungarian troops, he noted. "There were bases that were attacked where there are Hungarian soldiers stationed. But not a single Hungarian soldier was hurt, and Hungarian soldiers are as safe in Iraq as soldiers in Iraq can be."
Orbán said his government hopes to achieve a joint European Union position on Iran and the United States' policies during an upcoming EU foreign ministers meeting in Brussels. He also revealed that his Fidesz party might start or participate in a political group within the EU's European Parliament outside the European Peoples Party (EPP).
The EPP, involving several Christian democratic and conservative parties, recently suspended Fidesz. That was a punishment for Orban's perceived autocratic, nationalistic style.
Amid the controversy, Orban conceded that his party had suffered significant losses in Budapest and other cities during recent municipal elections following sex and corruption scandals. He said the united opposition had in several cases better candidates. However, he ruled out future cooperation with leftist Greens because they are "Green at the outside but red within."
Reporting about these developments isn't easy. Orbán rarely gives press conferences, and his government has taken over many media outlets. The prime minister defended these actions. "If there would be a secret vote among journalists in this room, 80 percent would vote against me."