By BosNewsLife Middle East Service with reporting by BosNewsLife's Stefan J. Bos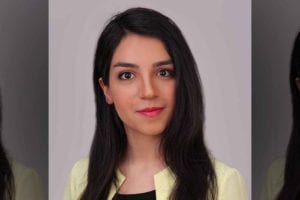 TEHRAN, IRAN (BosNewsLife)– Iran has reportedly detained a prominent Christian rights activist who converted from Islam to Christianity and publicly expressed anger about her country's Islamic leadership. The whereabouts of Mary Fatemeh Mohammadi, 21, remained unknown late Sunday, January 18. Several religious rights activists said she was transported to a secret location.
Activists noted that she was detained on January 12 in Tehran. It happened near the capital's Azadi Square where crowds rallied against Iran's authorities accidentally shooting down a Ukrainian passenger plane earlier this month, sources said.
The detention occurred after she spoke about "the repression" of Iran's government towards its people on social networking site Twitter. Her tweets included statements such as, "tackling soft repression is harder than hard oppression."
She also reported that batons and tear gas were used against protestors.
MORE TENSIONS
Her reported detention isn't her first stand-off with authorities. Last year, Iran's Islamic authorities charged her with failing to properly wear her hijab, the head covering worn in public by Muslim women. The charges were eventually dropped.
Separately she served a six-month prison sentence after being detained in a house church meeting, said Christians with close knowledge about the situation. She was charged for Christian activities and membership in "proselytizing" groups. Authorities also accused her of acting against national security through spreading propaganda against the regime, said advocacy group Open Doors.
Additionally, Iran's government complained about her campaign for all Christians, including converts, to be given the right to worship in a church. She wrote an open letter to the Minister of Intelligence, accusing him of infringing the constitution by targeting Christians.
And, she tweeted about the sentencing of nine Christian converts in the city of Rasht to five years imprisonment, BosNewsLife learned. She also mentioned the one-year sentence given to a 61-year-old fellow woman convert in Karaj. "Christmas is fast approaching, and security officials are lurking behind Christians," she reportedly wrote at the time in Persian in a tweet. The tweet was linked to a video recorded by 61-year-old Rokhsareh Ghanbari before she began the jail sentence.
Despite the reported crackdown on Christianity, mission groups suggest there are at least an estimated 360,000 Christians in the strict Islamic republic. They include many former Muslims who turned to Christianity, seeking freedom from strict Islamic rules. Iran's government-led Statistical Center reported recently 117,700 Christians in this nation of roughly 82 million people.