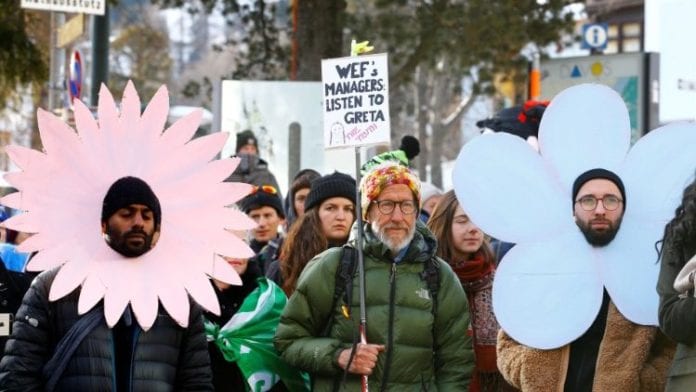 BosNewsLife WORLD WATCH
Listen to this shorter BosNewsLife News story via Vatican Radio:
By BosNewsLife News Center with reporting by BosNewsLife's Stefan J. Bos
DAVOS, SWITZERLAND (BosNewsLife)– United States President Donald Trump has condemned climate change activists as "prophets of doom" and warned that America first would defend its economy. He spoke at the World Economic Forum in Davos, Switzerland, where sustainability and the future of capitalism are central themes. His comments were rebuked by teenage climate activist Greta Thunberg who warned of a Climate Apocalypse without urgent environmental action.
"Act on Climate" was written in the snow at the landing zone where U.S. President Donald Trump's Marine One helicopter set down in Davos. But he soon made clear to those gathered at this ski resort in the Swiss Alps that he isn't worried about climate change predictions.
Trump has been criticized for supporting the fossil fuel industry and withdrawing from the Paris climate agreement. However, the president defended his policies and said America would protect its economy. He praised America's booming economy, the likes of which he claimed: "the world has never seen before."
Referring to climate activists, he spoke about what he views as fear-mongering. "This is not a time for pessimism. This is a time for optimism," Trump said in Davos. "Fear and doubts is not a thought process. Because this is a time for tremendous hope and joy and optimism and action, but to embrace the possibilities of tomorrow, we must reject the perennial prophets of doom and their predictions of the apocalypse."
He referred to previous predictions of an over-population crisis in the 1960s, mass starvation in the 1970s, and an end of oil in the 1990s.
Trump's speech was received in virtual silence from the audience apart from a brief flurry of applause. But that happened when Trump said the U.S. would join a World Economic Forum initiative to plant 1 trillion trees worldwide.
He did not directly name the teenage climate activist Greta Thunberg, who was in the audience.
GLOBAL MOVEMENT
The 17-year-old Swedish girl, who led a global movement calling for urgent environmental action, opened a session titled "Averting a Climate Apocalypse." She said she was outraged that the United States leaves the Paris Climate agreement. But Thunberg also claimed that other leaders who signed up to the document don't live up to the accord's requirement.
The Paris agreement calls for global temperatures to rise as close as possible to 1.5 degrees Celsius, or 2.7 degrees Fahrenheit compared to pre-industrial times.
That's why Thunberg said she had joined environmental activists to urge those attending the 50th World Economic Forum in Davos to end their support for the oil and natural gas industry and coal mines. "We demand that at this year's forum, participants from all companies, banks, institutions, and governments immediately halt all investments in fossil fuel exploration and extraction," she stressed.
They should also "immediately end all fossil fuel subsidies and immediately and completely divest from fossil fuels," she added. "We don't want these things done by 2050, 2030, or even 2021; we want this done now."
And she warned the delegates that her generation would continue to fight for a cooler world. She believes that's needed as in her words: "Our house is on fire."
(BosNewsLife's WORLD WATCH is a regular look at key world news developments impacting the Church and/or compassionate professionals).