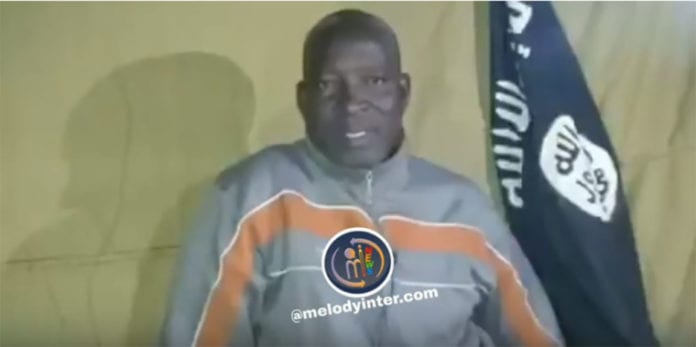 By BosNewsLife Africa Service with reporting by Linda Bordoni and Stefan J. Bos
ABUJA/VATICAN CITY (BosNewsLife)– Nigeria's militant Islamist group Boko Haram says it has killed the chairman of the country's leading Christian umbrella group. Pastor Lawan Andimi, who chaired the Christian Association of Nigeria (CAN), was beheaded Monday, January 20, Boko Haram said in a video.
Footage of the execution was shown Tuesday, January 21, two weeks after the pastor was kidnapped in north-east Nigeria by the militants. Boko Haram released the video via its journalist contact, Ahmad Salkida. "To break some news items can traumatize. I'm battling with one of such. Reverend [Lawan] Andimi, abducted by #BokoHaram, was executed yesterday," Salkida wrote on social networking site Twitter. "Rev. Andimi was a church leader, a father to his children, and the community he served. My condolences go to his family."
The "video of the appalling executions with that of a soldier was obtained at 2:42 pm," he explained. "I made sure that the family, the authorities, and the church were duly informed before the news was put out to the public this morning."
Andimi's denomination, the Church of the Brethren in Nigeria (EYN), also confirmed the pastor's death.
His murder came just weeks after the pastor was seen praising God in what would be his final video message. In the video released by his captors on January 5, he told his family and colleagues, not to cry or worry about him but to "thank God for everything."
'GRACE OF GOD'
Pastor Andimi said: "I have never been discouraged because all conditions that one finds himself is in the hands of God. By the grace of God, I will be together with my wife, my children, and my colleagues. If the opportunity has not been granted, maybe it is the will of God."
The pastor, 58, leaves behind a wife and nine children, Christians said. He was abducted in Adamawa State during Boko Haram raids in the region. His murder was the latest in a series of Islamic attacks against Christians in the African nation.
Recent violence included the December 22 attack on two passenger buses on Munguno road in Borno state. Muslim passengers were released while the Christians were held back and separated by gender. Three men, including a pastor from Deeper Life Bible Church, were killed on the spot. The pastor's relative Hannatu Sabastin Ishaya, and two humanitarian workers named as Jennifer Ukambong and Asabe, were abducted, Christian activists said.
A day later, the Islamic State West Africa Province (ISWAP) group killed several people when they attacked the outskirts of the Yobe state capital Damaturu for the third time in two months. They also attacked Biu town in southern Borno state, using rocket-propelled grenades, according to Christians familiar with the situation.
On December 24, Islamic militants reportedly attacked Kwarangulum village, some 16 kilometers (10 miles) from Chibok, killing at least six people and injuring three. On the same day, two people were reportedly killed and around 12 injured on the outskirts of Biu during the second ISWAP attacks in less than 24 hours. And around Christmas, the Islamic State group released a video claiming to show the killing of 11 Christians in Nigeria.
CHRISTIANS STILL MISSING
The murders added to concern about the whereabouts of other missing Christians kidnapped by Islamic militants. Joseph Bature Fidelis, an outspoken priest of the Diocese of Maiduguri, urged the international community to support persecuted Christians. "Every day," he said, "Our brothers and sisters are slaughtered in the streets."
His latest appeal followed the abduction of four young seminarians in the city of Kaduna, in north-western Nigeria. He is also concerned about the Good Shepherd Seminary in the city of Maiduguri. The 53 seminarians there work in an area "where one risks one's life every day just because one is Christian," he said.
In a dramatic video appeal to the papal charity, "Aid to the Church in Need," Fidelis stressed that the situation in northern Nigeria continues to deteriorate for the faithful who are under attack by Islamic militants.
"I ask the government of Italy, the country where I studied, and all European governments to put pressure on our government to do something to defend us," he said. An estimated 1000 Nigerian Christians were murdered in 2019 alone for their faith, according to church estimates. Some 6000 were reportedly killed since 2015.
PRESIDENT AGAINST DIVISIONS
Nigerian President Muhammadu Buhari has condemned the killings of Christians and urged Nigerians not to let themselves be divided along religious lines.
"We should, under no circumstance, let the terrorists divide us by turning Christians against Muslims. Because these barbaric killers don't represent Islam and millions of other law-abiding Muslims around the world," he said in a statement.
But critics say his government appears incapable of guaranteeing security and preventing continuous violence and even anti-Christian massacres.
Priest Fidelis noted the support and intervention of European governments is necessary: "Otherwise we risk extermination. Our people are suffering so much. Please help us not be silent in the face of this immense extermination that is taking place in silence."