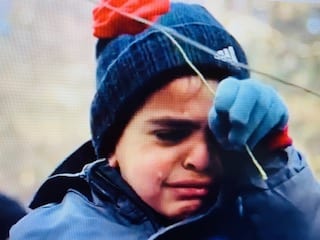 BosNewsLife WORLD WATCH
By Stefan J. Bos, Chief International Correspondent BosNewsLife
BUDAPEST/KELEBIJA (BosNewsLife)– Hundreds of migrants fleeing war, persecution, and poverty camped at the border with Hungary have been returned to asylum centers further inside neighboring Serbia. The group had been demanding entry into European Union member state Hungary, as winter sets in.
Listen to this BosNewsLife News story via Vatican Radio. Story continues below…
Hundreds of people, including men, women, and children, were chanting "open borders!" They spent hours sitting here at the Kelebija border crossing, appealing for access into Hungary, a  European Union nation. Braving freezing weather and biting winds, some were seen lying on the ground.
But Hungary's fiercely anti-migration government has put up wire fences at the border with Serbia to prevent entry. Prime Minister Viktor Orbán's administration has also send additional border police and troops to the area. The country complains about an increase in migrants trying to cross the border illegally, with some 3,400 attempts recorded last month.
These migrants are among several thousand who remain stuck in Serbia, where circumstances are difficult. Many are desperate. "I didn't go there to get money from the European Union," said Amira, a Syrian refugee. "You know my country has a war. I cannot go back to Syria." "We don't have a way back," added Abdullah, another refugee. "We have nowhere to run. That's why we are here, like last night and today," he said.
"The weather is so bad. You know this is winter, and we have kids. We have children and pregnant women here. And there are older people among us," Abdullah explained to reporters. Both refugees used only one name amid security concerns.
Though mixed, Hungarian state-run media and officials described them as a "caravan of single men" who wanted to show "how cruel" Hungary is.
BACK TO SERBIA
The two-day standoff has now ended. Serbian authorities put on buses up to 500 migrants who were camped at the border with Hungary overnight and returned them to asylum centers further inside the country.
Serbian state television reported that the group was transferred back to asylum centers early on Friday, February 7, and the border crossing reopened soon after. But new standoffs are expected. Most migrants in Serbia spend months in the state camps and attempt to cross the borders several times. They often rely on human smugglers to help them pass to Hungary or another EU member state, Croatia.
That has led to confrontations. Last week, Hungarian security fired warning shots were fired when up to 80 migrants tried to enter Hungary through a border crossing with Serbia. Video footage seen by BosNewsLife confirmed the incident.
Four of them, two Syrians and two Palestinians, were sentenced to a year imprisonment. They also face a four-year expulsion from Hungary.
Many people fleeing war persecution and poverty come from countries such as Syria, Iraq, or Afghanistan. Hundreds of thousands of them passed through the Balkans in 2015 and 2016 when about one million people entered the European Union.
For those staying behind in the Balkans, the future remains uncertain.