By Stefan J. Bos, Chief International Correspondent BosNewsLife
BUDAPEST, HUNGARY (BosNewsLife)– Hungary's fiercely anti-migration government says it has helped some 70,000 persecuted Christians to survive or return to their homes in the past two years. Tristan Azbej, the state secretary for aid to persecuted Christians, said the Hungarian support worth tens of millions of dollars was needed amid rising anti-Christian violence.
The state secretary claimed that the persecution of Christians has spread to western African countries from the Middle East. He stressed that Hungary's government wanted to "serve both the world's most persecuted and most neglected religious community and the interests of Hungarians by preventing or mitigating the migration pressure on Europe."
He spoke in Washington, where he opened a Hungarian exhibition to show "the suffering of the insulted and the injured." Azbej also said that the exhibition was a way to present "the real face of Hungarian people and their government."
And, Hungary's state-run news agency MTI quoted Azbej as saying that the exhibition was also to contrast "slanderous remarks" by liberal politicians and organizations. "We'll show that we don't have a heart of stone but consider migration a harmful tendency."
Since 2015, more than a million migrants fleeing war, persecution, and poverty arrived in the European Union. They included hundreds of thousands of people passing through Hungary on their way to more welcoming and prosperous Western nations.
HUNGARY CRITICIZED
Despite its trumpeted support for the persecuted, Hungary has come under international pressure over its treatment of asylum seekers, including Christians. Many have been detained in blue container camps on Hungary's southern border with Serbia behind razor wire fences.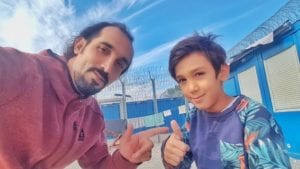 Among those held is Iranian artist Abouzar Soltani and his 10-year-old son Armin who have been stuck in the notorious Transit Zone in Hungary for more than a year. Hungary had threatened to deport Soltani back to Iran, though he faces imprisonment and possible execution there for converting from Islam to Christianity.
Asked about the situation, Prime Minister Viktor Orbán pledged to BosNewsLife last month that his government would look into these and other Christian asylum seekers cases.
In recent days, the Hungarian government envoys also discussed the plight of persecuted Christians with U.S. officials in Washington as U.S. President Donald Trump launched the International Religious Freedom Alliance.
Hungary was the first European Union member state to join the Alliance, said Hungarian Foreign Minister Péter Szijjártó after attending the group's inaugural meeting.
MANY COUNTRIES
The gathering was chaired by U.S. Secretary of State Mike Pompeo and attended by representatives of the 26 countries that have joined the new grouping.
Besides Hungary, they include Albania, Austria, Bosnia and Herzegovina, Brazil,  Bulgaria, Colombia, Croatia, Czech Republic, Estonia, The Gambia, Georgia, Greece,
Israel, Kosovo, Latvia, Lithuania, Malta, the Netherlands, Poland, Senegal, Slovakia, Slovenia, Togo, Ukraine, and Britain.
The United States State Department described the IRF Alliance as "a network of likeminded countries fully committed to advancing freedom of religion or belief around the world." That includes "the right to hold any faith or belief, or none at all, and the freedom to change faith," according to a document seen by BosNewsLife.
Szijjártó told MTI that Hungary did not accept international organizations "turning a blind eye" to the persecution of Christians around the world. He claimed that Hungary had been a Christian state since its foundation more than a thousand years ago and, as such, "carried responsibility for persecuted Christian communities around the world."
Hungary has so far provided 50 million dollars to aid to persecuted Christians in Africa and the Middle East, he said.