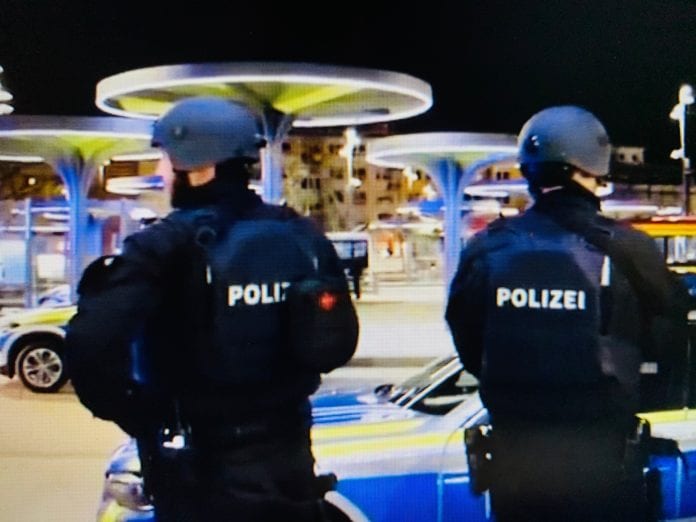 BosNewsLife WORLD WATCH
By Stefan J. Bos, Chief International Correspondent BosNewsLife with reporting from Hanau and Berlin
HANAU/BERLIN/BUDAPEST (
BosNewsLife
)–German Chancellor Angela Markel says a mass shooting that killed 11 people, including the gunman, has exposed the poison of racism in Germany's society. The chancellor spoke hours after the overnight shootings, which happened at several locations in a Frankfurt suburb.
Shots reverberated throughout central Hanau near Frankfurt.  A 43-year old German gunman attacked a hookah bar and a neighboring cafe in central Hanau, killing several people, authorities said. Soon after, he headed about 2.5 kilometers (1.5 miles) west and opened fire again, first on a car and then a sports bar, claiming more victims.
Witnesses and surveillance videos of the suspect's getaway car led authorities quickly to his home, near the scene of the second attack. He was found dead near the body of his 72-year-old mother. Officials say both the suspect and his mother had gunshot wounds, and the weapon was found on the suspect.
Witnesses are in shock. "We heard a helicopter. Later my wife and I looked out of the bedroom window," a man explained. "We soon saw some 25 masked security forces here."
Hookah lounges where most shootings took place are locations where people gather to smoke flavored tobacco from Middle Eastern water pipes. At least some of the victims appeared to be Turkish.
FAR-RIGHT EXTREMISM
German Chancellor Merkel suggested to reporters that the suspect had far-right motives. "There is much to indicate that the perpetrator acted out of far-right extremist, racist motives," she said. "This happened out of hatred for people with other origins, other faiths, or a different appearance."
The German leader added: "This poison exists in our society, and it is responsible for far too many crimes." Merkel cited the killings committed by a far-right gang known as the NSU, the fatal shooting last year of a regional politician from her party, and the attack on a synagogue in Halle in October.
German media report that police are examining a video the suspect may have posted online several days earlier. In it, he details a conspiracy theory about child abuse in the United States.
The video shows a dark-haired speaker wearing a white button-down shirt under a suit jacket. He said he was delivering a "personal message to all Americans" that "your country is under control of invisible secret societies." In a slow and deliberate voice, in accented English, he added there are "deep underground military bases" in which "they abuse, torture and kill little children."
In a reaction, Turkish Foreign Minister Mevlut Cavusoglu said that the first information suggests that the attack had a racist motive. He stressed that the Turkish consulate in Frankfurt and the embassy in Berlin were trying to obtain information about the attack. He fears at least some of the victims were Turkish.