Listen to a shorter version of this BosNewsLife report via Vatican News
BosNewsLife Investigation
By Stefan J. Bos, Chief International Correspondent BosNewsLife reporting from Budapest, Hungary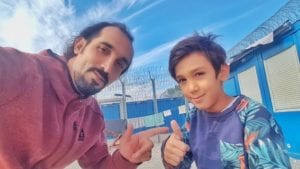 BUDAPEST, HUNGARY (BosNewsLife)– Hope is rising for an Iranian Christian father and his young son held in detention on the Hungarian-Serbian border for 527 days after the European Union's top court condemned Hungary's treatment of asylum seekers. The European Court of Justice (ECJ) ruled Thursday, May 14, that Budapest was obliged to reconsider their applications. The court stressed that Hungarian authorities circumvented EU law by holding migrants seeking refuge in unlawful prison-like conditions.
Circumstances prevailing in the Röszke transit zone "amount to a deprivation of liberty," explained the ECJ. "The persons concerned cannot lawfully leave that zone of their own free will in any direction whatsoever." The case was brought by a handful of migrants, including an Afghan couple and an Iranian father and his son. The applicants included Abouzar Soltani, an Iranian Christian, and his 11-year-old-son Armin.
They had been living in blue containers since late 2018 after asking asylum on political and religious grounds. Soltani "thanked God" and his friends in Hungary for supporting him throughout his ordeal, BosNewsLife learned.
"I am very happy that God changed my mind and heart during this time. For the past three years, I have not been able to love Hungary with all my heart because I was afraid for the law," he said in a statement. "But for some time now, with all my heart, I consider Hungary as my own country [because of] your love and efforts friends. There are people outside this camp who are hopeful and waiting for me to be free."
Hungary threatened to deport Soltani to Iran, though the father could face execution by hanging
there for abandoning Islam and converting to Christianity. Serbia refused to take them back, saying it does not share an agreement with Hungary on the transfer of people who entered the EU country illegally. That effectively left them in limbo.
Hungarian authorities declined to reconsider their application saying they "arrived from Serbia, a safe country." But the court disagreed siding with ECJ Advocate General Priit Pikamae. The official argued last month that due to Serbia's refusal to take them back, Hungary should resume "the procedure to examine the substance of their initial asylum request instead of returning them" to their country of origin.
NEW PROCEDURE
"Today's judgment ruled that asylum-seekers rejected on this ground must be allowed to initiate a new procedure. Where the court's ruling must be regarded as a new element," explained Márta Pardavi, co-chair of the Hungarian Helsinki Committee. "This can finally put an end to the unlawful practice of attempting to remove people stuck in the transit zone to their country of origin without ever examining their asylum applications on their merit."
Her advocacy group provided legal aid to Soltani and other asylum seekers. She complained to Worthy News that Hungary's government claims to aid persecuted Christians, but that this support stops at the border. "Here, persecuted Christians are treated in the same inhumane way as other asylum seekers."
She cited "food deprivation" and reported filthy conditions in the container camps as examples. "There has also been horrible propaganda claiming that they brought the coronavirus with them. In reality, so far, there were no infections among the roughly 300 asylum seekers held in the two transit zones near the Hungarian-Serbian border."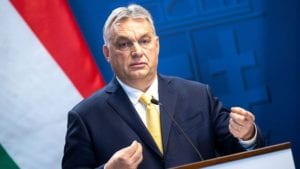 Even before the ECJ ruling, the Hungarian government, led by Prime Minister Viktor Orbán, had come under European pressure over its treatment of refugees such as Soltani. Pressed by a BosNewsLife reporter, Orbán suggested in January that his rightwing government would either grant Soltani and his son asylum or bring them to safety elsewhere. "On that kind of case, as you have mentioned and similar ones, we are very active," he stressed.
A Hungarian court was due to order the release of Soltani and other asylum seekers from detention in the transit zone to a more open reception center in Hungary. "The ECJ made a historic decision that could set a precedent for other asylum seekers," explained Soltani's attorney Barbara Pohárnok. But asked by BosNewsLife, the government called the ruling "disheartening."
GOVERNMENT ANGRY
In a statement, it claimed that "Unfortunately, the verdict – in accordance with intentions of Brussels made manifest until now – want to force us not to defend Hungary's borders and make us allow migrants in."
The ruling came as a setback for Prime Minister Orbán, who built a border fence to prevent
asylum-seekers from entering through Serbia via the so-called Balkan route. That happened after over 1 million refugees and migrants entered the EU in 2015, many of them fleeing war, persecution, and poverty in the Middle East, Africa, and Asia.
The government's International Communications Office noted that while many frontiers within the European Union have been closed because of the coronavirus outbreak, the European Union's top court seems to make external border protection impossible.
Therefore, "it is especially ill-boding" that the ECJ "believes that the effective protection of external borders and the processing of asylum applications outside of or at the latest at European borders is incompatible with European Union law."
Europe, it stressed, "must be compelled to leave the rules on external border protection either to the Member States or to set stricter common EU standards."
Hungary's government added that it hopes that "the European Union do not wish in the long run to jeopardize its own peaceful social functioning and coexistence" by making external border protection impossible. "This is the standpoint that Hungary will represent at every European forum."