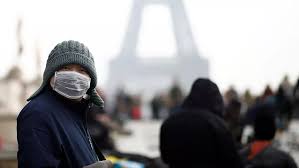 By Stefan J. Bos, Chief International Correspondent BosNewsLife
FRANCE, PARIS (BosNewsLife)– An administrative court in France has overturned a government ban on meetings in churches and other places of worship. The case underscored broader tensions in coronavirus-hit Europe over religious freedom amid an ongoing pandemic.
France's Council of State ordered the government to lift the ban on worship gatherings within eight days. French officials had defended the measure saying it was needed to curb the coronavirus outbreak.
But the Council of State called the policy "disproportionate in nature." It stressed that the ban had caused in its words "damage that was seriously and manifestly illegal."
Authorities say more than 28,000 people have died in France from the coronavirus disease COVID-19. Currently, all gatherings in places of worship are banned except for funerals, which are limited to 20 people.
PRIVATE GATHERINGS
However, the court stressed that as private gatherings of up to 10 people are now allowed, the ban was "disproportionate to the objective of preserving public health."
France had a cluster of Covid-19 cases in February that originated at an evangelical church. Thousands of people gathered in the city of Mulhouse for a week of activities. The pastor of the congregation, Port Ouverte, or 'Christian Open Door' church, says worshipers were threatened. More than 2,500 cases are said to have been linked to his congregation worldwide.
"This is the scapegoat effect," argued Pastor Samuel Peterschmitt, who himself survived COVID-19. "Obviously, there have been relatively violent reactions on social media. There were many threats, even threats such as: 'They must be shot with Kalashnikov rifles. We must burn the church'," he recalled.
"We have had people who have been assaulted at their workplace, people who had had nasty text messages from their neighbors. Of course, people were afraid. " But the pastor stressed: "This is not the time for war. We must not have division; we must unite against the disease. We must not choose the wrong enemy. "
MORE DEBATES
That view seems to shared by the Council of State court ordering an end to a ban on worship. Bruno Retailleau, leader of the right-wing Republicans in the Senate, already called the ruling "good news for freedom of religion."
France isn't the only nation debating how far freedom of worship can go in coronavirus-hit Europe.
Montenegro, for instance, released a Serbian Orthodox Church bishop and at least seven priests over the weekend whose detention sparked protests and riots with police.
They were held last week for violating coronavirus lockdown measures by organizing a procession attended by several thousand people. If found guilty, they could have faced up to 12 years in jail.