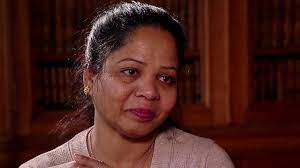 By Stefan J. Bos, Chief International Correspondent BosNewsLife
ISLAMABAD, PAKISTAN (BosNewsLife) – The brother-in-law of Asia Bibi, a Christian woman who faced the death penalty for "blasphemy" against Islam, has been killed, Christians confirmed Wednesday, May 27.
The body of Younas Masih, 50, was reportedly found Monday, May 25, in a furrow in Dao Ki Mallian village in the Sheikhupura district of Pakistan's Punjab province.
The father of two was married to Najma Bibi, the younger sister of Asia Bibi, who was eventually acquitted of blasphemy in 2018 after spending eight years on death row in Pakistan.
"He used to take care of the cattle at the farmhouse of a local landlord. We had been searching for him after he went missing a day earlier. His throat was slit. We handed over his body to the police," the victim's brother George Masih said in published remarks.
Church sources said police had detained the widow and a local Muslim for alleged involvement in the murder. Both had an extramarital affair, local Christians said. The suspects were named as Najma Bibi and Irfan Dogar.
CONFESSING CRIME
Police were quoted as saying they had confessed to the crime, and the victim's body was sent to a morgue for an autopsy.
It is not the first time that somebody associated with Asia Bibi has been murdered. In 2011, Salman Taseer, the influential governor of Punjab, was assassinated after he appealed for the pardon of Asia Bibi, who had been sentenced to death for allegedly insulting Prophet Muhammad.
A month later, Religious Minorities Minister Shahbaz Bhatti, a Christian who spoke out against the blasphemy legislation, was shot dead in Islamabad, the capital.
Bibi, 47, was convicted of blasphemy in 2010 after defending her faith in Christ after fellow farmworkers did not want to share water with her. Besides "insulting Prophet Muhammad," the mother-of-five was accused "of contaminating" the well by Muslims.
Some Muslims consider Christians dirty and do not drink water using the same container. Bibi, whose full name is Aasia Noreen, was convicted and sentenced to death for blasphemy, charges she denied.
LEAVING PAKISTAN
After more than eight years of legal wrangling and awaiting the outcome in a Pakistani prison, she was eventually acquitted by the Supreme Court last year, triggering violent protests throughout the country.
She left Pakistan in May 2019 and now lives in an undisclosed location in Canada with her family.
Recently Bibi said she intended to ask political asylum in France where she promoted a book she co-authored about her experiences. She was also made an "honorary citizen" of Paris.
Her case has underscored the broader pressures faced by the Christian minority in Pakistan, a heavily Islamic nation, activists say. Scores of people, including Christians, have reportedly been murdered in Pakistan after being accused of blasphemy since 1990.
Christians comprise roughly 3 percent of the Asian nation's over 233-million people.