WORLD WATCH  
By Stefan J. Bos, Chief International Correspondent BosNewsLife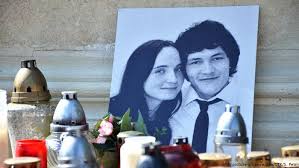 BRATISLAVA/BUDAPEST (BosNewsLife)– Leading journalism groups have condemned a court in Slovakia for acquitting main suspects in the 2018 slayings of an investigative journalist and his fiancée.
"Jan Kuciak has been murdered again," said the European and International Federations of Journalists (EFJ and IFJ) in a statement to BosNewsLife.
"Thursday's verdict in the trial of the killers of…Kuciak and his fiancée Martina Kušnírová is like a new death sentence for the Slovak journalist," they added.
But a panel of judges in southwestern Slovakia cleared businessman Marian Kocner of masterminding the killings of the couple, both 27.
A co-defendant was also acquitted. Only a third suspect was convicted and sentenced to 25 years imprisonment.
NO EVIDENCE
Judge Ruzena Sabova, at the Specialized Criminal Court in the town of Pezinok, said there was not enough evidence to convict everyone.
"The crime was committed, but it has not been proved that Marian Kocner and Alena Zsuzsova ordered the murder," Judge Sabova expressed in her verdict.
"The court, therefore, acquits these defendants," she said, only sentencing Kocner to a 5,000-euro ($5,900) fine for illegal weapons possession as 60 bullets were found in his house.
State prosecutor Vladimir Turan told reporters he has already appealed against the ruling to the Supreme Court, while a lawyer for Kuciak's family said the verdict was "factually incorrect."
"This verdict is terribly shocking," stressed EFJ General Secretary Ricardo Gutiérrez. However, so far, "Three thugs have been convicted," he recalled, also referring to previous convictions.
JOURNALISM DANGEROUS
"And it is now certain that Jan Kuciak was indeed murdered for his journalistic activity," he told Worthy News. "But the person or persons who ordered the killing remain unpunished. Justice has not been done," Gutiérrez said.
Two years ago, the killings of the young journalist exposing high-level corruption, and his girlfriend toppled the government.
The murders also sparked the nation's largest anti-government protests since the 1989 Velvet Revolution against Communist rule in what was then Czechoslovakia.
IFJ General Secretary Anthony Bellanger said the acquitted businessman
Kočner, who allegedly orchestrated the murders, "has established links with organized crime" and the ruling Social Democratic Party in Slovakia.
UNLAWFUL ACTS
He said the IFJ and EFJ had urged Slovakia's authorities to take away "suspicion of official collusion in, or tolerance of, unlawful acts."
Both groups said Thursday's court ruling undermines public confidence in the rule of law.
They also expressed concern about the plight of journalism elsewhere in Europe.
The journalism organizations complained that Kuciak's murder isn't an isolated case. "There are still 35 cases of murdered or missing journalists in Europe for which the perpetrators have not yet been identified."