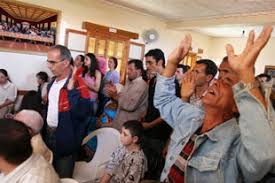 By Stefan J. Bos, Chief International Correspondent Worthy News
ALGIERS, ALGERIA (BosNewsLife)– Algerian Christians have urged prayers for a pastor and his assistant who were jailed and fined for evangelizing in Algeria, an Islamic nation, BosNewsLife learned.
Pastor Rachid Seighir of a church in Oran's coastal city, and a salesman helping in the book and stationery shop the pastor runs, were sentenced to two years imprisonment, trial observers said.
They were also fined some $3,800 each in local currency during the February 27 court procedure held in absentia, according to Christians familiar with the situation. Both will appeal the sentence, supporters said.
The court found them guilty of "proselytizing," the word used to describe converting Muslims to Christianity, explained advocacy group Middle East Concern (MEC), which followed the case.
The sentence came after the pastor's bookshop was raided in September 2017, MEC said. When "police found Christian books, publications (including Bibles) and printing machines. Following the raid, the Governor of Oran ordered the bookshop closed," MEC recalled.
In December 2018, a court decided that the closure order was faulty due to procedural issues. "Despite that decision, the bookshop was not allowed to reopen," MEC told BosNewsLife.
'AGITATING FAITH'
The pastor and bookshop salesman was reportedly accused of "agitating the faith of Muslims" under a law governing non-Muslim worship.
"Article 11.2 of that law forbids "…printing, storing, or distributing materials to convert or to "impugn/shake" the faith of a Muslim," MEC said in a statement to Worthy News. "Pastor Rachid was convicted on the same charges in 2008 but was acquitted on appeal. They will also appeal this verdict."
It comes amid a wider crackdown on devoted Christians deemed dangerous to Islamic believes in Algeria. Last month Pastor Seighir spoke about a man from his church who was given a five-year prison sentence and a fine over a cartoon. The cartoon was deemed insulting the Prophet of Islam, Christians said.
In recent months two other Christians have been convicted of blasphemy, receiving prison sentences, MEC added.
It suggested that authorities are discriminating against Christians amid the ongoing coronavirus pandemic in the North African nation. "After easing COVID-19 prevention measures, the government allowed other worship places to reopen, but not Protestant churches."
In statements distributed by MEC, Christians in Algeria asked supporters for prayer so that "the pastor and the Algerian church leadership will know the peace of Jesus, the wisdom of the Father and the guidance of the Holy Spirit in dealing with this situation."
NON-MUSLIM WORSHIP
They also expressed hope that prayers will lead to the acquittal of the pastor and the bookshop assistant and that authorities accept Christ in their lives.
It was crucial, Christians said, that "regulations governing non-Muslim worship will be amended and justly implemented so that Christians will be able to worship freely."
Christians in Algeria have also been praying for an "end to the campaign against Christians and churches in Algeria and more freedom and tolerance," MEC said.
Aid and advocacy group Open Doors shares concerns expressed by members of the nation's tiny Christian minority. "The majority of Christians in Algeria are converted from Islam," the group noted. "They are most at risk of persecution, not just from their family and extended family, but from the wider community, which includes local ethnic leaders and elders. This can involve harassment, beatings, threats, and imprisonment, as well as pressure to adhere to Islamic customs."
Christians comprise roughly 0.3 percent of Algeria's mainly Muslim population of more than 43 million people, according to Open Doors estimates.
The former French colony ranks 24 on its annual World Watch List of 50 nations where Open Doors claims Christians face most persecution.