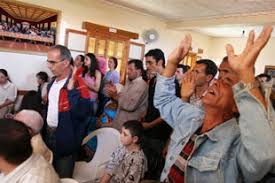 By Stefan J. Bos, Chief International Correspondent BosNewsLife
ALGIERS, ALGERIA (BosNewsLife)– Supporters of an Algerian pastor and his co-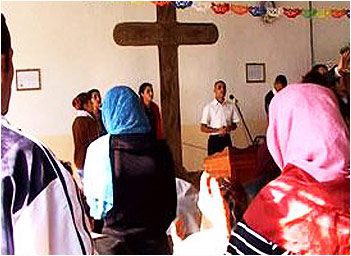 worker have urged prayers after an appeal hearing against a lengthy prison term related to their Christian work was postponed.
Pastor Rachid Seighir and Nouh Hamimi were sentenced February 27 to two years in prison for "shaking the faith" of Muslims through Christian literature sold in their bookstore.
The ruling followed a reported raid on the Algerian church-run shop in September 2017. An appeal of the case was scheduled Sunday, for April 18, but "it has now been postponed until May 16," trial observers said.
It was the latest setback for the pastor whose Christian bookstore and congregation faced legal problems for years in the Muslim nation. In 2008, Pastor Rachid was reportedly convicted of similar charges but acquitted on appeal.
However, in 2017, the state governor ordered the store to close, said Christians familiar with the situation. Additionally, Pastor Rachid's Oratoire Church in Oran, the second most important city of Algeria, was ordered to close in late 2019.
In published remarks, the pastor suggested that the difficulties enabled them to reach non-Christians with the Gospel. "Everyone has now heard of the church and is talking about it too," he said.
PRAYERS URGED
Voice Of the Martyrs Canada (VOMC), which supports Pastor Seighir and Hamimi, asked Christians to "continue to pray…as they face this two-year prison sentence. Ask God to speak to the hearts of the court officials involved in this case. So that mercy may be extended to these imprisoned believers, resulting in their acquittal upon appeal," the advocacy group said.
It was also crucial to pray that the detained Christians, family members, and other believers would experience "God's reassuring presence" at this time of uncertainty, VOMC wrote. "As they await next month's court meeting, may they be strengthened, kept safe from harm, and greatly encouraged in their faith."
The case underscored broader concerns about the treatment of Christians in Muslim-majority Algeria. There are around 129,000 believers in a population of just over 43.3 million, according to Christian estimates.
Most Christians in Algeria are converts from Islam, and many face persecution, from family members and the wider community, several sources said. "This can involve harassment, beatings, threats, and imprisonment, as well as pressure to adhere to Islamic customs," added advocacy and aid group Open Doors.
State officials also exert pressure following radical Islamic teachers, Christians say. Authorities reportedly use their influence to close churches and other Christian activities. Officials "limit the freedoms of converts, including preventing them from expressing their views in public," commented Open Doors.
Christians suggest that the situation has not improved under Algeria's President Abdelmadjid Tebboune, who pledged reforms since winning the December 2019 presidential election.
Algeria, a gateway between Africa and Europe, has been battered by violence over the past half-century. Most people died in the war against France for independence in the 1950s and early 60s. French historians say up to 400,000 Algerians were killed, while the Algerian government says more than one million people died in that conflict.