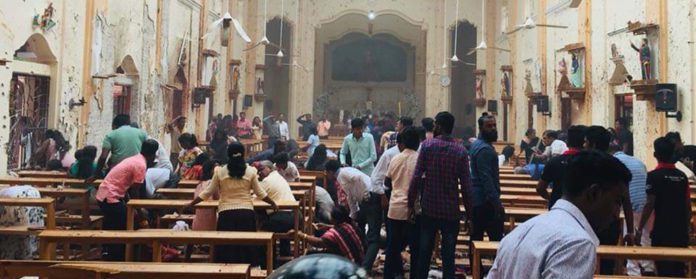 By BosNewsLife Asia Service with reporting by BosNewsLife's Stefan J. Bos
COLOMBO, SRI LANKA (BosNewsLife)– Sri Lanka's government has blamed a radical Islamist group for coordinated bombings at churches and hotels on Easter Sunday that left hundreds of people dead and injured. As the first mass funerals began, the death toll of South Asia's worst violence against Christians in recent memory rose to at least 310. Police also said that about 500 people had been wounded in the attacks on sites across the island nation.
The Sri Lankan tourism minister, John Amaratunga, told reporters that that at least 39 foreigners were among the dead, including citizens from Australia, Britain, China, Japan, Netherlands, Portugal, and the United States.
Officials on Monday, April 22, said the National Thowheeth Jama'ath group was responsible for the bomb attacks, but it remained unclear whether this assertion was based on new information discovered by investigators.
Sri Lankan police were reportedly put on notice 10 days before the blasts that the group was planning suicide attacks against churches as part of a broader crackdown on devoted Christians in the region.
Experts described National Thowheeth Jama'ath as a small but violent group of young Muslims that started some three years ago in eastern Sri Lanka, far from the country's more cosmopolitan western and southern coasts. It seeks to spread the global jihadist movement to Sri Lanka, and critics say the group wants to create hatred, fear, and divisions in society.
SEVERAL SITES TARGETED
Among the targets in Colombo, Negombo and Batticaloa were two Catholic churches. They include the St. Anthony's Shrine in the capital and St. Sebastian's Church in Negombo, north of Colombo, authorities said. Dozens of suspects have been detained, officials said.
In published remarks, Sri Lanka's Cardinal Malcolm Ranjith of the Archdiocese of Colombo said he had "humble prayers for all the victims of this senseless violence," and stressed that he also prayed "for the caregivers and relief agents."
The church leader called the attacks "bestial and inhuman" and added: "We need to plead the mercy seat of the Risen Lord Jesus, the Prince of Hope and Peace, to strengthen all people of good will to help stabilize the situation of fear and suspicion that has arisen following the blasts."
At the Vatican, Pope Francis urged the international community to help those in need in Sri Lanka and he urged nations "not to hesitate in condemning these terrorist and inhuman acts that are never justifiable."
CHURCHES EXPRESS SORROW
Catholic Churches across Asia also expressed their solidarity and condolence to the Sri Lanka Church. "Allow me to express my sincere anguish at this tragedy that has taken the toll on scores of innocent human lives on the very day when we celebrate world over the victory of life and goodness over death and evil," wrote the President of the Federation of Asian Bishops' Conferences (FABC), Cardinal Charles Bo of Myanmar, also known as Burma, in a letter to Cardinal Ranjith.
The statements came as more explosions rocked parts of Sri Lanka on Monday, April 22. While no new casualties were reported, the blasts added to tensions in a nation with already strained nerves.
In one case, a bomb reportedly detonated while police were trying to defuse or move it, near one of the churches that were hit on Easter Sunday. Other smaller explosions apparently resulted from police intentionally detonating suspicious packages.
The blasts came while Christians began mourning the many killed, including dozens who died in one of the explosions at St. Sebastian's Gothic-style Catholic church, north of Colombo.
Witnesses saw bodies on the ground, blood on the church pews and a destroyed roof.
EVANGELICALS ALSO ATTACKED
Local media reported 25 people were also killed in an attack on an evangelical church in Batticaloa in Eastern Province.
Many also died in hotels hit in Colombo where the Shangri-La, the Kingsbury, the Cinnamon Grand, and the Tropical Inn near the national zoo was targeted.
Media said that the first six explosions were all reported within a short period in the morning just as Easter church services were starting. One of the explosions was at St. Anthony's Shrine, a Catholic church in Kochcikade, Colombo, a tourist landmark.
The explosion at the Tropical Inn happened later, and there was an eighth explosion at the house that was the subject of a police raid in Colombo.
Though this were the bloodiest attacks against the country's Christian minority in years, Christians had experienced pressure in Sri Lanka.
DOZENS OF ATTACKS
Last year, there were 86 verified incidents of discrimination, threats and violence against Christians, said the National Christian Evangelical Alliance of Sri Lanka (NCEASL), which represents more than 200 churches and other
Christian organizations.
In 2019, the NCEASL so far recorded 26 such incidents, including one in which Buddhist monks allegedly attempted to disrupt a Sunday worship service, with the last one reported on March 25.
Several world leaders have condemned the Easter Sunday attacks. U.S. President Donald Trump also said that America offered "heartfelt condolences" to the Sri Lankan people and stood ready to help.
Indian Prime Minister Narendra Modi stressed in remarks that there was "no place for such barbarism in our region" while Turkish President Tayyip Erdogan called the bombings "an assault on all of humanity."
Government leaders fear more violence as Sri Lanka's history has been marred by sectarian tensions and civil war.
CHRISTIANS IN MINORITY
Christians comprise just over 7 percent and Muslims nearly 10 percent of the country's 23 million people, who are mainly Buddhist.
Nationalists in the Sinhalese Buddhist majority have been stoking fears of minority groups, particularly Christians and Muslims and the nation has been caught up in rivalries between China and India.
Amid the tensions, authorities closed or limited access to social media such as Facebook, Instagram, Snapchat and the messaging services Viber and WhatsApp.
The government said the platforms were blocked to prevent "the spread of misinformation" about the attacks as hate speech could inspire more violence.