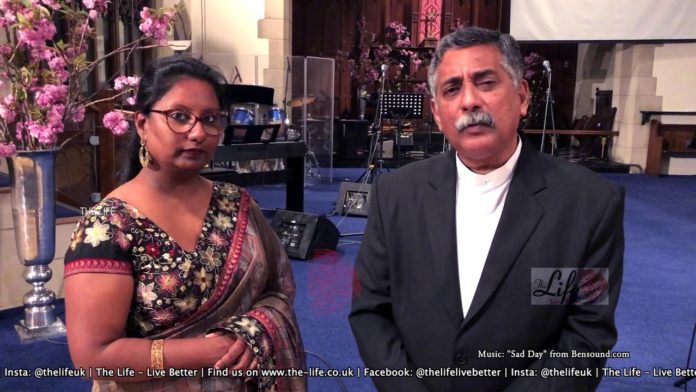 By BosNewsLife Asia Service with reporting by Stefan J. Bos, Chief International Correspondent BosNewsLife
COLOMBO, SRI LANKA (BosNewsLife)– The senior pastor of a Sri Lankan evangelical congregation says he has forgiven the suspected Islamic militants who bombed his church on Easter Sunday, killing dozens of people. Pastor Roshan Mahesan of the Zion Church in Sri Lanka's eastern city of Batticaloa also thanked those offering prayer and support.
"We are hurt. We are angry also, but still, as the senior pastor of Zion Church Batticaloa, the whole congregation and every family affected, we say to the suicide bomber, and also to the group that sent the suicide bomber, that we love you and we forgive you," he said in a video message obtained by BosNewsLife.
The explosion at Zion Church reportedly occurred during the Easter morning service, leaving 28 people dead and more than 70 seriously injured. It was one of eight attacks, some of which targeted three hotels and two other churches in the Asian nation, killing hundreds of people. The Islamic State group claimed the attacks, but Sri Lankan authorities are still investigating who was responsible.
However, "No matter what you have done to us, we love you, because we believe in the Lord Jesus Christ," Pastor Mahesan added. "Jesus Christ on the Cross, he said: 'Father forgive them for they do not know what they are doing.' We also, who follow the footsteps of Jesus Christ, we say, for the Lord: 'forgive these people.'"
(Story continues after this video message…)
The pastor spoke before news emerged Saturday, April 27, that militants linked to Easter suicide bombings in Sri Lanka opened fire and set off explosives during a raid by local security forces on a house in the country's east, leaving behind a grisly discovery: 15 bodies, including six children.
ISLAMIST GROUPS BANNED
As part of the security operation, Sri Lanka's president banned two Islamist groups suspected of involvement in the suicide bombings on churches and hotels that left more than 250 people dead, many of them devoted Christians.
The National Thawheedh Jamaath and Jamathei Millathu Ibrahim groups were banned under his emergency powers, President Maithripala Sirisena said in published remarks. Both are believed to be inspired by organizations such as Islamic State who seek to establish states based on strict Islamic law.
Amid the bloodshed, Pastor Mahesen said in his video message that he wanted to "take this opportunity to thank every church around the world, every believer, every person is known to me and unknown to me who has contacted me, calling me, sending messages of condolences, and then words of encouragement."
In the video shared by Sri Lankan Christian group 'The Life' he pledged that his congregation would "stand and continue what the Lord has purposed in our life and we are ready, and we will continue to fulfill the mission the Lord has given us."
Pastor Chrishanthy Sathiyaraj, who leads a Sri Lankan church uniting Tamil and Sinhalese Christians and founded 'The Life' group, spoke with Pastor Mahesan earlier this week while he was visiting Britain.
SHOCKING THE WORLD
"These atrocious attacks have shocked the world, the violence has impacted my friends and family, and many in the Sri Lankan community in the UK know people who have died," she said in remarks sent to BosNewsLife. "If only we can hear Pastor Roshan Mahesan's words and respond with forgiveness instead of hate. Jesus Christ calls us to love even those who persecute us, and what is more powerful than to choose to love in the circumstances such as these. Let's forgive, stand together and build the kingdom of God. Don't give up."
The Evangelical Alliance, which represents millions of evangelical Christians, agrees. Its director, Steve Clifford, told BosNewsLife in a statement that he had joined a Sri Lankan prayer gathering earlier this week following the attacks. "I am mourning with my Sri Lankan brothers and sisters in Christ as they bury loved ones, as church communities are shaken by the violence inflicted on them and as others live in fear that the same might strike them."
Yet, he remained hopeful. "Pastor Roshan offers love and forgiveness that can only come from knowing that we are forgiven by Jesus. I will continue to pray for him and all the believers in Sri Lanka, that they will know hope in Jesus that overcomes all fear."
Sri Lanka's worst attack against Christians in years shattered the tense calm that the Buddhist-majority country has seen since a 26-year civil war with mainly Hindu ethnic Tamil separatists ended a decade ago. Authorities have already warned of more attacks against churches and other religious centers, prompting Catholic churches to postpone Mass.
President Sirisena and the government of Prime Minister Ranil Wickremesinghe have faced intense criticism after it emerged that India had repeatedly given warnings of the possibility of attacks. Both Sirisena and Wickremesinghe have said intelligence was not shared with them. Commentators say those remarks underscore rifts at the top of the government and raised questions about its ability to deal with the security crisis.
CHRISTIANS INCREASINGLY TARGETED
The political turmoil added to concerns among Christians who make up over 7 percent of the country's 23 million people.
Besides the latest bombings, there were already 86 verified incidents of discrimination, threats and violence against minority Christians, said the National Christian Evangelical Alliance of Sri Lanka (NCEASL), which represents more than 200 churches and other Christian groups.
In 2019, the NCEASL so far recorded 26 such incidents, including one in which Buddhist monks allegedly attempted to disrupt a Sunday worship service, with the last one reported on March 25.
The attacks were linked to extremists of Buddhist, Hindu and Islamic communities
Christian advocacy and relief group Open Doors says persecution of Christians impacts especially those from Buddhist or Hindu backgrounds. They are treated "as second-class citizens and can face slander and attacks," the group noted.
"Believers from Buddhist or Hindu backgrounds face harassment and discrimination from their families and communities. They are pressured to recant their new faith, as a conversion is regarded as a betrayal of their ethnicity."
Additionally, most state schools do not teach Christianity as a subject, "so Christian schoolchildren are forced to study Buddhism or Hinduism," Open Doors said. Before the Easter Sunday bombings, several churches in rural areas were already attacked or closed, and Christians were assaulted, the group added. Rights activists and the Christian community now fear more attacks in Sri Lanka.