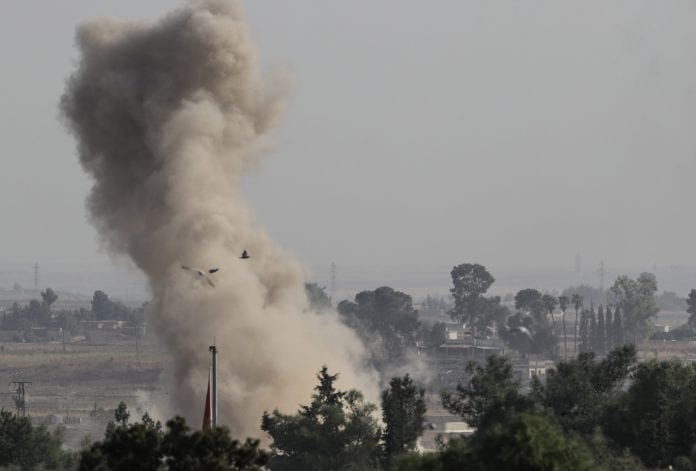 By Stefan J. Bos, Chief International Correspondent BosNewsLife
ISTANBUL/DAMASCUS (BosNewsLife)– Turkey's Syrian Christians urged prayers on Friday, October 11, as Turkish forces pounded northeast Syria with air and artillery strikes.
"Christians are deeply affected, along with other communities in the region," said Middle East Concern (MEC), a well-informed Christian advocacy group reporting the prayers appeal.
"Shelling has led to multiple casualties. More than twenty villages have so far been seized, and tens of thousands have fled the region," MEC added in a statement to BosNewsLife.
The Turkish incursion began this week after U.S. President Donald J. Trump announced the withdrawal of American troops who had been fighting alongside Kurdish forces against the Islamic State group. Independent war monitors said at least about 100 people died in the first days of the assault. Some 100,000 people already fled their homes, according to United Nations sources.
Turkey claims its actions are needed to defeat the Kurdish YPG militia, which it sees as terrorists for links to insurgents in Turkey. Turkish President Tayyip Erdogan says his nation wants to establish a "safe zone" inside Syria to resettle many of the 3.6 million refugees Turkey has been hosting.
MILLIONS OF REFUGEES
He also threatened to send millions of refugees to Europe if the European Union did not back his assault. That prompted a furious response from the EU. "We will never accept that refugees are weaponized and used to blackmail us," European Council President Donald Tusk said on social media.
France announced that sanctions against Turkey would be discussed at an EU summit next week.
Even some Republican lawmakers have questioned Trump's decision to remove U.S. troops, amid fears it could lead to a crackdown on Kurds and minority Christians in the overwhelmingly Muslim region.
"Although not specifically a campaign against Christians, there are concerns Christian communities face particular vulnerabilities," explained MEC.
Christian leaders, it said, "are concerned that elements within Turkey's forces and their Syrian opposition allies are pursuing Islamist agendas." Those agendas are "hostile not just to Kurds but also to any communities that are not Sunni Muslim," the group added.
ISLAMIC STATE FIGHTERS
MEC also suggested that Christians fear Turkey's invasion will force Kurds to reduce the security of more than 20 prisons and camps holding Islamic State fighters. That raised the possibility that about 11,000 militants and their families would escape.
Washington made clear that the U.S. military has no plans to intervene if Syrian Kurdish forces abandon a constellation of Islamic State prisons to fight against Turkish troops.
MEC also reported anxiety among Christians about "Turkey's refugee repatriation plans' of Syrian refugees" as it could "constitute an intentional program of 'demographic engineering' in the region."
Minorities view these measures as "intended to boost the Arab Sunni presence to the detriment of Kurds and other communities such as Christians," MEC added.
Northeast Syria, the critical Kurdish region of the troubled nation, hosts sizeable Syriac and Assyrian Christians communities and other minorities.
MUSLIMS BECOMING CHRISTIANS
Christian aid workers also noted that Muslims turn to Christianity, especially among Kurdish communities.
Now religious tensions are expected to rise as attacks by Turkey's military intensify. The military actions open a new front in the eight-year Syrian civil war that already killed hundreds of thousands of people.
In appeals distributed by MEC, Turkey's Syrian Christians, who also live in border areas, urged believers around the world to pray for them and their fellow believers across the frontier in Syria.
Prayers included petitioning God that the "political and military leaders of parties involved and in the wider international community, will act with restraint, wisdom, and compassion."
They also urged prayers that "those bereaved or injured, together with all who have fled, will find comfort, healing, provision, and hope."
PEACE BEING RESTORED?
Additionally, Syrian Christians asked that "peace will be restored, human dignity respected and pluralism preserved and strengthened, in northeast Syria and the rest of the country."
That would "benefit all ethnic and religious communities," they said.
The Syrian believers hope that "Christian communities will not be intimidated but find the opportunity to be agents of reconciliation, healing, peace, and hope."
And prayers were requested that "all who are intent on violence will know the Spirit's conviction of sin and respond to the Father's offer of new life through the Son (Jesus Christ)."
As prayers were said, Syrian Christians on both sides of the border faced another tense night late Friday, October 11.