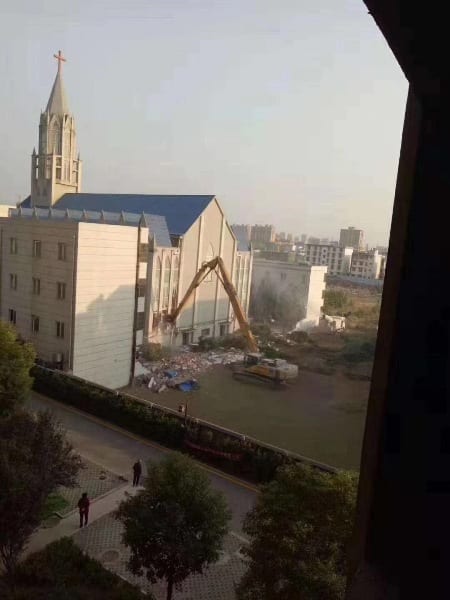 By Stefan J. Bos, Chief International Correspondent BosNewsLife
BEIJING, CHINA (BosNewsLife)– Authorities in eastern China have destroyed a megachurch and detained its pastors this weekend in an "escalation of religious persecution by the Chinese Communist regime", activists said.
Officials arrested Pastors Geng Yimin and Sun Yongyao, on suspicion of "gathering a crowd to disturb social order," BosNewsLife learned.
The church in the Funan area of Anhui province could reportedly seat more than 3,000 people and was part of China's officially-recognized Church network. It was not immediately clear when the pastors would face trial.
Footage distributed by advocacy group ChinaAid and seen by BosNewsLife shows a bulldozer destroying the church building.
Christians said the destruction happened in the middle of a worship service. ChinaAid claimed that authorities tore the building down Friday, October 18, without showing "legal papers ordering the church's demolition."
RELIGIOUS PERSECUTION
In a statement, ChinaAid President Bob Fu said the incident was "another clear example showing the escalation of religious persecution today by the Chinese Communist regime."
He complained that it showed, "The total disregard of religious freedom's protection as enshrined in the Communist Party's own Constitution."
Fu said the destruction, "tells the whole world President Xi Jinping is determined to continue his war against the peaceful Christian faithful."
However, Fu, a former Chinese house church leader who fled to the United States, warned that "This campaign will surely fail in the end."
ChinaAid, which represents local Chinese Christians, says it wants to expose abuses to stand in solidarity with "the persecuted and promote religious freedom, human rights, and the rule of law."
MORE INCIDENTS
Friday's destruction of the megachurch was no isolated incident. Christians and activists have reported detentions, crosses being removed, and closures of churches in several parts of China.
Among reported attacks, was the closure of one of China's largest house churches in Chengdu late last year. The pre-Christmas raid continued for days, resulting in arrests and detainments of more than 100 Christians. Among them, the Early Rain Covenant Church Pastor Wang Yi, one of China's most well-known church leaders, Christians said.
A week later, another sizeable underground congregation, the Rongguili Church, was closed by local authorities, activists said. A few months before, the 1,500-member Zion Church in Beijing closed because leaders refused to install security cameras, according to Christians.
In late 2018, religious liberty magazine Bitter Winter reported that police stations in a city in northeast China are being evaluated based on the number of Christians they arrest. Earlier that year footage emerged of Golden Lampstand Church, a well-known Christian church, which was demolished in northern China's Shanxi Province. It was reportedly the second church to be knocked down in less than a month, after the demolition of a Catholic church in neighboring Shaanxi Province.
(Story continues after footage…)
COMMUNIST PARTY
"The management of religious affairs in China lies with the Communist Party now, not just with the government. And Christians are intensely and increasingly feeling this shift and fear of Christian persecution," confirmed advocacy and aid group Open Doors.
"All churches are perceived as a threat if they become too large, too political or invite foreign guests. A policy of "sinicizing" the church is becoming increasingly influential…The Communist Party is relying strongly on Chinese cultural identity to stay in power," added Open Doors in a recent assessment.
The crackdown against Christians happens nationwide and in both state-approved and non-registered churches, according to Christians familiar with the situation.
Open Doors also noted that authorities increasingly remove youth from church life. Additionally, China monitors worship via an extensive network of security cameras and spies, according to activists and Christians.
Professionals also face pressure with teachers and medical workers reportedly being told by authorities that they are not allowed to have any religious affiliation.
MORE RESTRICTIONS
Further complicating the situation for Christians are "The new restrictions on the internet, social media, and NGOs," Open Doors said.
"The new regulations on religion are all seriously limiting freedom. However, it is not only the introduction of new laws but also the stricter implementation of already existing laws."
Also, Christian converts from Islam or Tibetan Buddhism, "are usually threatened, physically harmed, and reported to local authorities to win them back," Open Doors claimed. "Spouses may be forced to divorce, and children can be taken away from Christian parents," the group added.
Chinese officials have consistently denied human rights abuses saying they only enforce the law. They also claim that current legislation is sufficient to prevent rights abuses.
Despite the reported persecution, Christianity continues to spread in China, with many people gathering in underground house churches. Christianity has the most followers in China after Buddhism, which is the preferred religion of between 185 and 250 million people. China is expected to overtake the United States as the world's largest Christian nation.
U.S. Vice President Mike Pence said recently that "faith in Jesus Christ has reached as many as 130 million Chinese Christians," eclipsing the roughly 90 million Communist Party members. Chinese Christians also far outnumber the country's 23 million Muslims, church observers say.