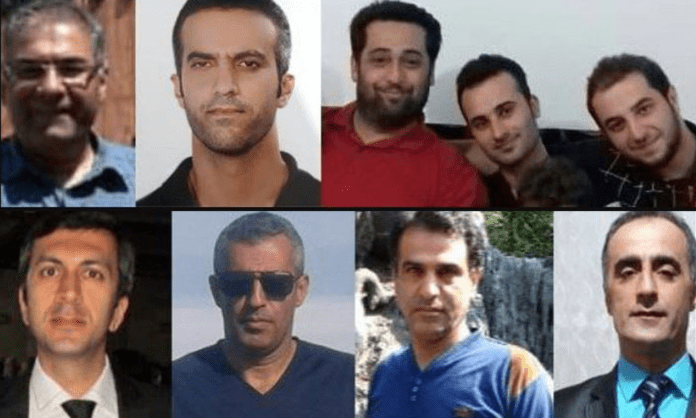 By BosNewsLife Middle East Service with Stefan J. Bos, Chief International Correspondent BosNewsLife
TEHRAN, IRAN (BosNewsLife)– An Iranian court has sentenced a pastor and eight fellow members of the big evangelical Church of Iran movement to jail for leaving Islam.
Church leader Matthias Haghnejad and the other believers were each sentenced to five years imprisonment after a short hearing on September 23, trial observers confirmed to BosNewsLife.
Pastor Haghnejad was detained by the feared Islamic Revolutionary Guard following a church service in February this year, said advocacy group Christian Solidarity Worldwide (CSW), which supports the Christians.
The other believers Shahrouz Eslamdoust, Babak Hosseinzadeh, Behnam Akhlaghi, Mehdi Khatibi, Mohammad Vafadar, Kamal Naamanian, Hossein Kadivar (Elisha) and Khalil Dehghanpour were reportedly taken into custody in the coastal city of Rasht in early 2019.
Confirmation about their sentences came days after jailed Church of Iran pastor, Yousef Nadarkhani, ended a three-week hunger strike, according to Christians familiar with his situation.
FATHER'S CRY 
Nadarkhani, who is serving a ten-year prison term for church activities, began his action on September 23 to protest against his children being prohibited from continuing with their education.
He described his hunger strike in a letter to prison authorities as "the cry of a father, unjustly imprisoned." The pastor stressed that the second-generation Christian children are increasingly penalized by educational authorities who do not recognize their faith.
It was not immediately clear whether Nadarkhani would be able to meet the other jailed Christians. Trial observers said the nine men faced a severe July hearing by Judge Mohammed Moghisheh, who activists claim "is notorious" for miscarriages of justice.
He allegedly attempted to coerce Pastor Haghnejad, Eslamdoust, Hosseinzadeh, Akhlaghi and Khatibi, into accepting a court-appointed legal representative.
The judge eventually suspended the proceedings, remanding them in custody on significantly increased bail terms when they refused to do so, reported CSW. "Judge Moghisheh subsequently resumed the trial of Mr. Vafadar, Mr. Naamanian, Mr. Kadivar (Elisha) and Mr. Dehghanpour, who were representing themselves…during which he asserted that the Bible was falsified and called the men' apostates'," the term used for leaving Islam, the group added.
APPEALS EXPECTED
During another hearing last month, the defendants' lawyer was allowed to speak shortly, Christians said. "However, Judge Mogisheh is reported not to have responded to his statement. A source informed CSW that "it seemed as if the judge had already made his decision," the group explained.
CSW claimed that the judge "allowed this process as a formality before pronouncing a pre-determined sentence."
All nine Christians are appealing their sentences, but Pastor Haghnejad and those defended by a lawyer were already jailed, CSW said.
CSW's Chief Executive Mervyn Thomas told BosNewsLife that his group condemns "in the strongest terms," the sentences handed to the Christians. "Once again, it is clear from the brevity of the trial and reported lack of interest of the presiding judge that due process was not observed. And the judge was not impartial," he added.
"The charges against these Christians are excessive, completely unfounded and constitute a criminalization of a religion which the Iranian constitution purportedly recognizes," Thomas said.
BROADER CRACKDOWN
He confirmed that CSW called "for the immediate and unconditional release of these nine men," and all who are behind bars "for their religion or belief in Iran."
The detentions are part of a broader crackdown on devoted Christians in the Islamic nation, according to several church sources and activists. Apostasy and spreading Christianity often lead to long prison terms and possibly a death sentence in Iran.
Despite these difficulties, mission groups suggest there are at least an estimated 360,000 Christians in the country. They include many former Muslims who turned to Christianity, seeking freedom from strict Islamic rules. Iran's government-led Statistical Center reports 117,700 Christians in this nation of just over 82 million people.
The U.S. State Department has classified the Islamic Republic as a "country of particular concern" under the International Religious Freedom Act of 1998 "for having engaged in or tolerated particularly severe violations of religious freedom."
Iranian authorities have denied wrongdoing but say they want to protect the country against dangerous outside influences.