By BosNewsLife Middle East Service with reporting by BosNewsLife's Stefan J. Bos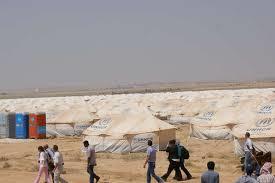 BEIRUT/BUDAPEST (BosNewsLife)– Christian aid workers say the United Nations is involved in persecuting Christians who have fled war-ravaged areas of Syria.
The Christian refugees reportedly face difficulties when trying to seek refuge in camps set up in Jordan, Lebanon, and elsewhere. "A substantial number of them are being blocked by United Nations officials when attempting to enter the camps," noted advocacy group Voice Of the Martyrs Canada (VOMC).
The U.N. refugee agency UNHCR has so far declined to comment. But VOMC, which has close contacts in the area, confirmed to BosNewsLife that Christians face difficulties as a "majority" of U.N. officials working among refugees in these countries are Muslims. "Subsequently, many of the rejected refugees are being forced to live in hiding elsewhere, risking the danger of deportation or possible death if found."
Roughly one percent of war refugees settling in the United States and other nations are Christian. That's, "because the applications of those from religious minority groups have been blocked by the Muslim officials responsible for screening them," VOMC claimed.
"(Muslim U.N. camp officials) knew that we were Muslims who became Christians and they dealt with us with persecution and mockery", a Christian man, identified only as Hasan, explained. "They didn't let us into the office, and they ignored our request," he told US-based Christian Broadcasting Network (CBN). Hasan said he and his family are now in hiding amid fears they may be detained by Jordanian security forces or even killed.
COURT CASE
The news came while former Anglican archbishop, George Carey, is launching a court case against the British Home Office, claiming that Britain is complicit in this discrimination.
He says it's absurd that out of the 60,000 Syrian war refugees accepted in the United States and Britain in 2014, almost none were Christian.
"You have this absurd situation where the scheme is set up to help Syrian refugees. (But) the people most in need, Christians who have been "genocided," they can't even get into the U.N. camps to get the food," said Carey's attorney Paul Diamond.
"If you enter and say 'I am a Christian or convert,' the Muslim U.N. guards will block you [from] getting in. And laugh at you and mock you and even threaten you," he added.
However, VOMC claims that despite the hardships endured by Christians, many Muslims turn to Christianity. "Other refugees who have been forced from their homes in Syria are finding faith in Christ."
STRICT RULES
Muslims have cited the perceived strict rules and regulations of Islam as among the reasons why they turn to Christianity.
Among them is Timothy, who told CBN that he became a Christian after seeing Jesus in a dream. He claimed he was blocked from entering a refugee camp by Muslim U.N. officials.
"All of the United Nations officials, most of them, 99 percent, they are Muslims," Timothy explained from Jordan, "and they were treating us
as enemies." Even Christian refugees who made their way to European nations face difficulties, BosNewsLife and other reporters established.
In Hungary, Iranian artist Abouzar Soltani and his 10-year-old son Armin have been stuck in the notorious Transit Zone near Serbia for almost a year. They and others are forced to live in blue containers after asking asylum.
Hungarian authorities initially threatened to deport them back to Iran, where the father may face execution for converting from Islam to Christianity. However, Hungary's Prime Minister Viktor Orbán suggested to BosNewsLife that they will be brought to safety or receive asylum in Hungary.
FUTURE UNCERTAIN
But it remains unclear what will happen with other Christian asylum seekers. Orbán said his government is dealing "secretly" with these Christians.
Elsewhere, Swedish attorney Gabriel Donner told CBN that Sweden is now deporting up to one-third of Christian refugees back to Muslim nations where they are likely to be imprisoned or killed.
One of those Christian refugees now facing imminent deportation is Iman Amir-Ourang from Iran. He told CBN that Swedish officials either did not understand
or cared about the evidence of his Christian faith.
"There are so many atheists living in Sweden, so they can't believe in somebody that believes in God. So just because they don't believe in our Lord,
they don't trust anybody else to believe in the Lord either."
Attorney Donner, who supports Christian asylum seekers, said U.N. officials don't understand the message in the Bible. "It's just completely alien to them."
U.S. President Donald Trump has said that Christian refugees would be given priority in asylum requests. But Christian activists say Muslim governments officially
classify Christians as security threats, causing their asylum applications to western countries to be rejected.